Nike's Discounted Cash Flow Valuation
Nike Inc. (NKE) is considered one of the best companies to among US investors. Its robust revenue CAGR (north of 10%), a net income CAGR of 11%+, and a free cash flow growth of ~8% are the key arguments for the stock. Decent dividends and continual share buybacks are the second reason why this stock is called "a cash cow". Last but not least, its leading position in the international markets, a strong brand name, and positive growth expectations in China make it a top apparel stock.
I am positive about the company's future. As Table 1 shows, Nike looks good on every metric. Revenue growth is at the industry's average level, while its net income's average growth rate for the last three years is 3% higher than the industry's average, and its operating and net profit margins look superior to the market. This is why the company's returns on assets and equity are fantastic. Moreover, they are growing as well – take a look at Table 2 to see in detail. Finally, Nike's operating cash flows have been increasing rapidly over the last five years, as well.
Table 1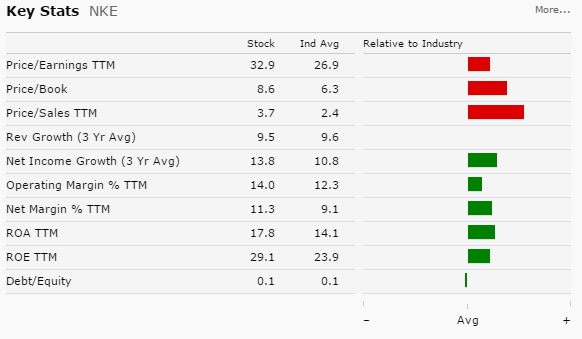 (Source: Morningstar.com)
Table 2

(Source: Morningstar.com)
Discounted Cash Flow Analysis
You can see a screenshot of my discounted cash flow model in Table 4 and also download it as an Excel file via this link. In Table 3, you can see how I expect Nike's key metrics change during the forecast period. In the modeling process, I had to make several assumptions, which you can check in the "Assumptions" tab of the file, as well.
My model shows that, after subtracting the market value of debt, minority interest and adding back cash and investments, the market value of equity is approximately $107B. As a result, the fair value per share is about $121 per share, which is ~6% lower than the current market price ($128 per share).
Table 3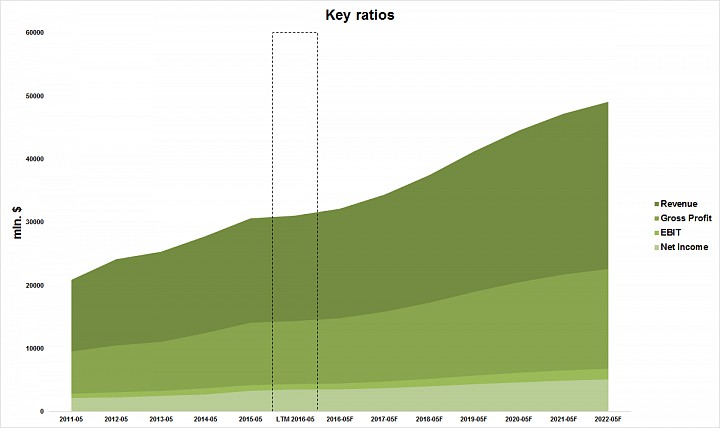 (Source: Capital IQ. Infographics by author)
Table 4

(Source: Capital IQ. Infographics by author)
The DCF analysis shows that the company is fairly valued. I do not see a margin of safety in this stock, and I generally do not like buying stocks without a margin of safety. Besides, Nike is an international company, and a large chunk of its revenues comes from other countries. In the presence of a strong dollar, Nike's revenues will be hurt in the medium-run. Hence, I recommend readers to HOLD Nike's stock and I am setting a target price range at $109-134 per share. This price range represents a (-15%) - 5% upside opportunity for the stock at current levels.