Think Calendar Spreads In The Case Of Alibaba
Alibaba Group Holding Limited (BABA) is a holding company. The company is engaged in online and mobile commerce through offering of products, services and technology that enable merchants, brands and other businesses to transform the way they market, sell and operate in the People's Republic of China (the PRC or China) and internationally. It operates through the provision of online and mobile commerce and related services segment. The company provides retail and wholesale marketplaces available through both personal computer and mobile interfaces in the PRC and internationally. It is reporting earnings on Wednesday, August 10, after market close:

As evident from the above, the company beat earnings estimates in 71% of time in the last eightquarters, underperforming or showing in-line results in the rest of time, and has seen modest volatility in the market price of its stock over the last three months:
<!== INSTRUMENT %% %60% ==!>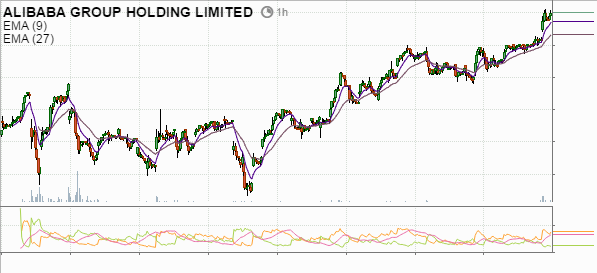 The market participants expect the following numbers over the next few quarters, including the upcoming one: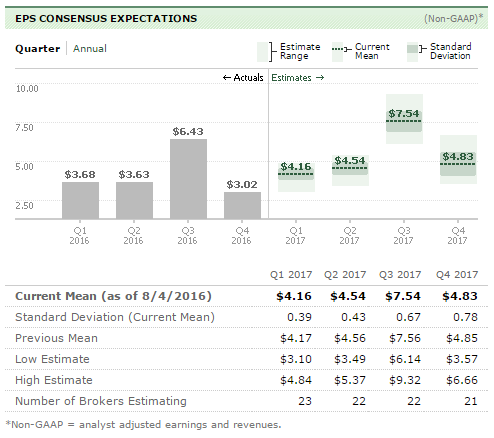 (Source: TD Waterhouse)
Market data show that the August options are a bit undervalued: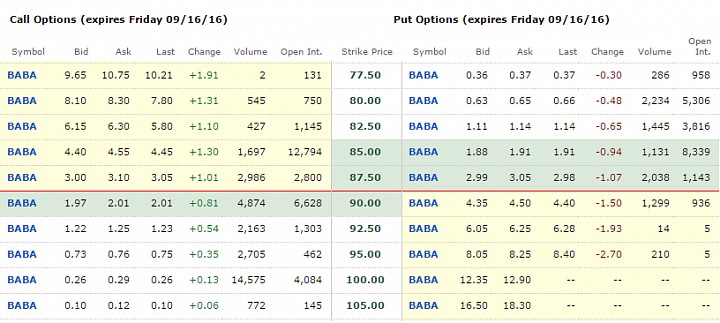 (Source: TD Waterhouse)
The two-week straddles (options with a strike price of $87.50 and expiring on August 19, 2016) are worth around 4.9% of the current market price of the stock. Historically, the stock has been more volatile than that on a monthly basis over the last year:

(Source: Google Finance. Calculations by author)
As you can see, the stock has had a monthly standard deviation of 10.3% over the last 52 weeks, while the straddle expiring in a bit less than two weeks has an implied monthly volatility of around 5.9% (calculated based on 7 business days remaining until expiration), also including volatility from the earnings event this week. I therefore see signs of modest undervaluation in these options. Hence, buying the straddles is a good idea from a theoretical standpoint.
Investors may also be interested in selling calendar spreads to capitalize on the higher implied volatility of the front month's options:

(Source: optionsprofitcalculator.com)
The risk-return profile of this trade looks like this: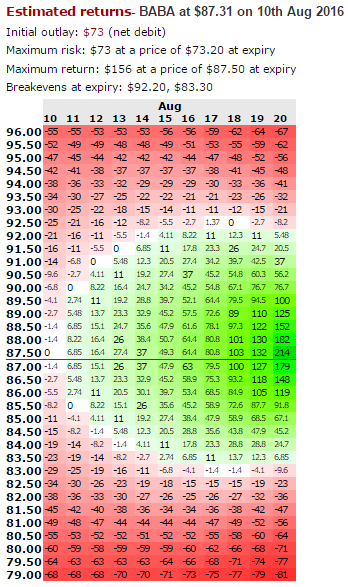 (Source: optionsprofitcalculator.com)
As you can see from the above illustration, the "window of safety" is around 10.1%. This means that the stock has to move roughly 5% in either direction from the current price by expiration in order for investors to start losing money. The risk-reward ratio of around 1:2.93 is in line with this type of option strategies and is deemed attractive in the case of a relatively low volatility stock like Alibaba.