Shake Shack`s Options Are Undervalued Going Into Earnings
Shake Shack Inc. (SHAK) operates roadside burger stands. The company serves an American menu of burgers, hot dogs, crispy chicken, frozen custard, crinkle cut fries, shakes, beer and wine, among others. The company has approximately 84 Shacks in over 10 countries and approximately 45 cities. Its signature items are its all-natural, hormone and antibiotic-free burgers, hot dogs, crispy chicken, crinkle cut fries, shakes and frozen custard. Its menu focuses on food and beverages, crafted from a range of classic American foods. It is reporting earnings on Wednesday, August 10, after market close:

As evident from the above, the company beat earnings estimates in 100% of time in the last six quarters and has seen modest volatility in the market price of its stock over the last three months:
<!== INSTRUMENT %% %60% ==!>
The market participants expect the following numbers over the next few quarters, including the upcoming one: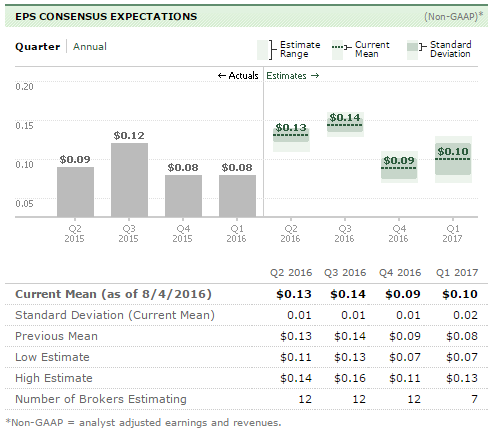 (Source: TD Waterhouse)
Market data show that the August options are a bit undervalued: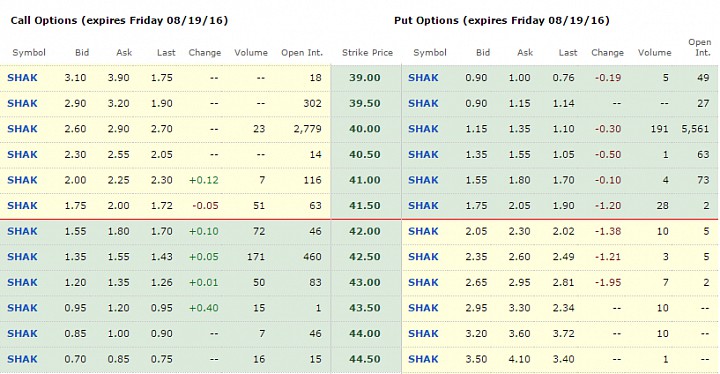 (Source: TD Waterhouse)
The two-week straddles (options with a strike price of $41.50 and expiring on August 19, 2016) are worth around 8.7% of the current market price of the stock. Historically, the stock has been more volatile than that on a monthly basis over the last year:

(Source: Google Finance. Calculations by author)
As you can see, the stock has had a monthly standard deviation of 15.3% over the last 52 weeks, while the straddle expiring in a bit less than two weeks has an implied monthly volatility of around 9.5% (calculated based on 8 business days remaining until expiration), also including volatility from the earnings event this week. I therefore see signs of modest undervaluation in these options. Hence, buying the straddles is a good idea from a theoretical standpoint.
Investors may also be interested in selling out-of-money options against the straddles to lower the cost basis of the initial trade: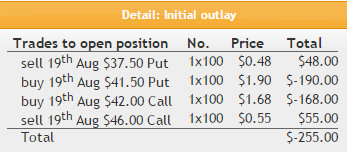 (Source: optionsprofitcalculator.com)
On the one hand, this will limit expected returns. On the other hand, this action will minimize losses in the event the stock does not move swiftly over the next two weeks. The risk-return profile of this trade looks like this: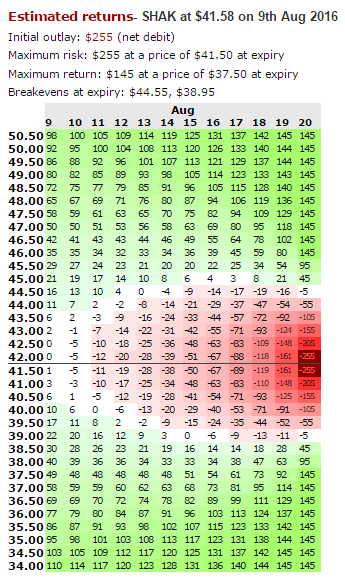 (Source: optionsprofitcalculator.com)
As you can see from the above illustration, the "window of safety" is around 13.6%. This means that the stock has to move roughly 7% in either direction from the current price by expiration in order for investors to break-even. The risk-reward ratio of around 1:0.57 is in line with this type of option strategies.