Barracuda Networks' Stock Won't Move By More Than 11% After Earnings
Barracuda Networks, Inc. (CUDA) designs and delivers security and data protection solutions. The Company offers cloud-enabled solutions that enable customers to address security threats, manage network performance, and protect and store their data. Its solutions are designed to manage information technology operations for its customers. Its security solutions include Barracuda Email Security, The Barracuda Web Security Gateway, Barracuda NextGen Firewalls, The Barracuda Web Application Firewall, The Barracuda Load Balancer ADC and The Barracuda SSL VPN. Its data protection solutions provide solutions for on-premises and cloud-based archiving and backup. Its data protection solutions include Barracuda Backup, Barracuda Message Archiver and CudaSign. Its solution suites combine its security and data protection offerings into services designed for cloud platforms and managed services environments. Its solution suites include Barracuda Essentials for Office 365 and Intronis ECHOplatform.
It is reporting earnings on Monday, April 17, after market close: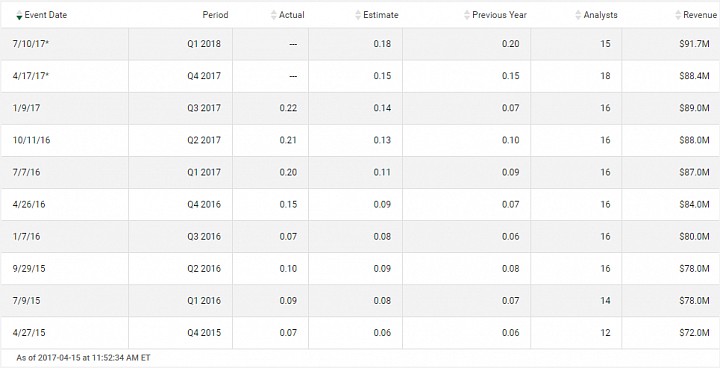 (Source: TD Waterhouse)
As evident from the above, the company has beaten earnings estimates in 87% of time and underperformed or showed in-line results in the rest of time. It has seen modest volatility and a sideways trend in the market price of its stock over the last three months:
$CUDA
, BARRACUDA NETWORKS INC / D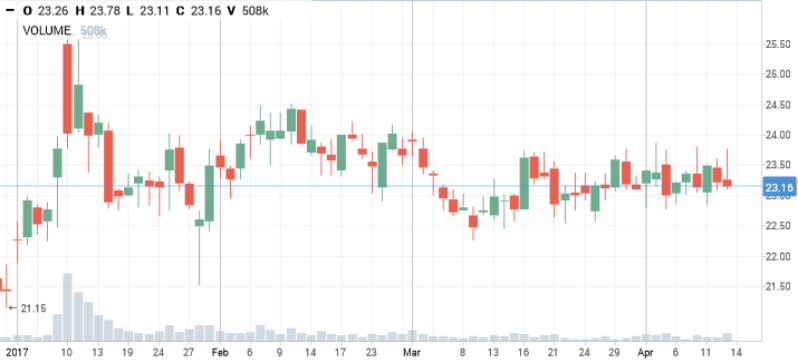 The market participants expect the following numbers over the next few quarters, including the upcoming one: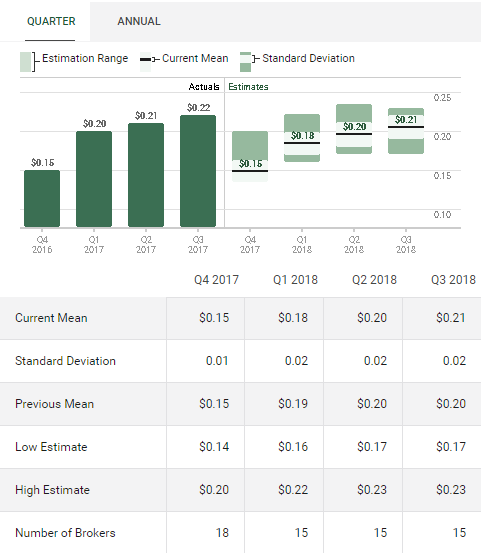 (Source: TD Waterhouse)
Market data show that the one-week options are overvalued: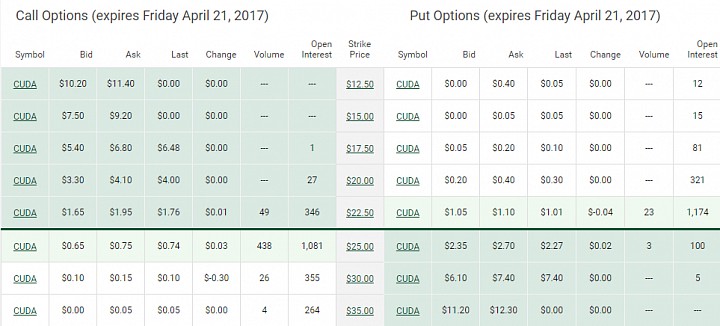 (Source: TD Waterhouse)
The one-week straddles (at-the-money options with a strike price of $22.50 and expiring on April 21, 2017) are worth around 11.9% of the current market price of the stock (including the calculation of the options' moneyness). Historically, the stock has been less volatile than that on a weekly basis over the last year:

(Source: Google Finance. Calculations by author)
As you can see, the stock has had a weekly standard deviation of around 6.0% over the last 52 weeks, while the straddle expiring in six days has an implied weekly volatility of around 6.7% (calculated based on 6 calendar days remaining until expiration), also including volatility from the earnings event next week. I therefore see signs of overvaluation in these options.
Hence, selling the straddles is a good idea from a theoretical standpoint.
Voting is over
Waiting for


the right answer