Here Is My Earnings Trade In Five Below!
Five Below, Inc. (FIVE) is a specialty retailer offering a range of merchandise for teen and pre-teen customer. The Company offers an assortment of products, including select brands and licensed merchandise across a range of categories, including Style, Room, Sports, Tech, Crafts, Party, Candy and Now. The Company's product groups include leisure, fashion and home, and party and snack. Its Leisure includes items, such as sporting goods, games, toys, tech, books, electronic accessories, and arts and crafts. Its Fashion and home includes items, such as personal accessories, attitude t-shirts, beauty offerings, home goods and storage options. Its Party and snack includes items, such as party and seasonal goods, greeting cards, candy and other snacks, and beverages. The Company operates approximately 430 locations across over 30 states throughout the Northeast, South and Midwest regions of the United States. The Company's typical store features approximately 4,000 stock-keeping units (SKUs).
It is reporting earnings on Wednesday, March 22, after market close: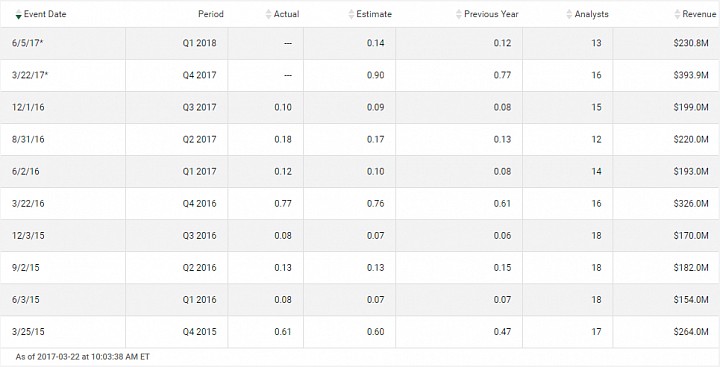 (Source: TD Waterhouse)
As evident from the above, the company has beaten earnings estimates in 87% of time over the last eight quarters, showing in-line results in one quarter. It has seen significant volatility and a downtrend in the market price of its stock over the last three months:
$FIVE
, Five Below, Inc. / D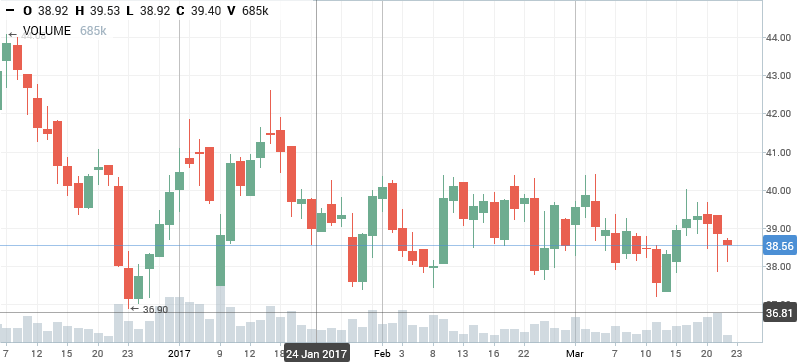 The market participants expect the following numbers over the next few quarters, including the upcoming one: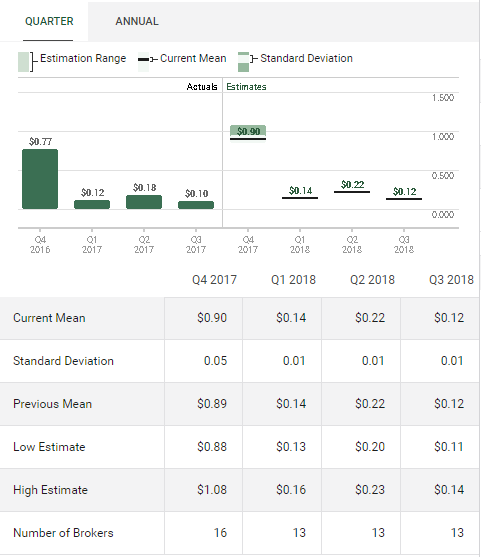 (Source: TD Waterhouse)
Market data show that the one-month options are undervalued: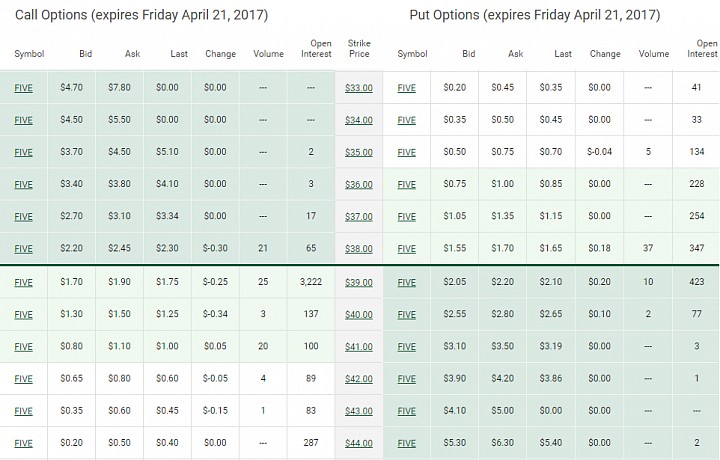 (Source: TD Waterhouse)
The one-month straddles (at-the-money options with a strike price of $39.00 and expiring on April 21, 2017) are worth around 10.2% of the current market price of the stock (including the calculation of the options' moneyness). Historically, the stock has been less volatile than that on a monthly basis over the last year:

(Source: Google Finance. Calculations by author)
As you can see, the stock has had a monthly standard deviation of around 9.7% over the last 52 weeks, while the straddle expiring in thirty calendar days has an implied monthly volatility of around 11.6% (calculated based on 30 calendar days remaining until expiration), also including volatility from the earnings event this week. I therefore see signs of undervaluation in these options.
Hence, buying the straddles is a good idea from a theoretical standpoint.