Here Is An Interesting Options Trade In Cintas Corporation Pre-Earnings
Cintas Corporation (CTAS) is a provider of corporate identity uniforms through rental and sales programs, as well as a provider of related business services, including entrance mats, restroom cleaning services and supplies, carpet and tile cleaning services, first aid and safety services and fire protection products and services. Its segments include uniform rental and facility services, and first aid and safety services. Its uniform rental and facility service segment offers services, which include rental and servicing of uniforms and other garments, including flame resistant clothing, mats, mops and shop towels, and other ancillary items. Its first aid and safety service segment offers services, which include first aid and safety products and services. Rental processing plants, rental branches, first aid and safety facilities, fire protection facilities, direct sales offices, distribution centers and manufacturing facilities are all utilized by the businesses included in All Other.
It is reporting earnings on Wednesday, March 22, after market close: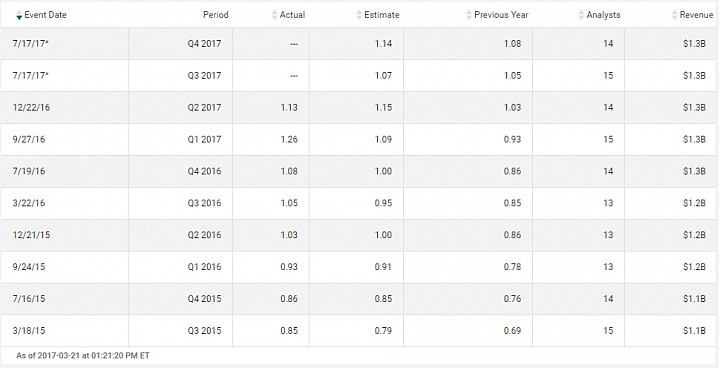 (Source: TD Waterhouse)
As evident from the above, the company has beaten earnings estimates in 87% of time and underperformed in the rest of time over the last eight quarters. It has seen modest volatility and a sideways trend in the market price of its stock over the last three months:
$CTAS
, Cintas Corporation / D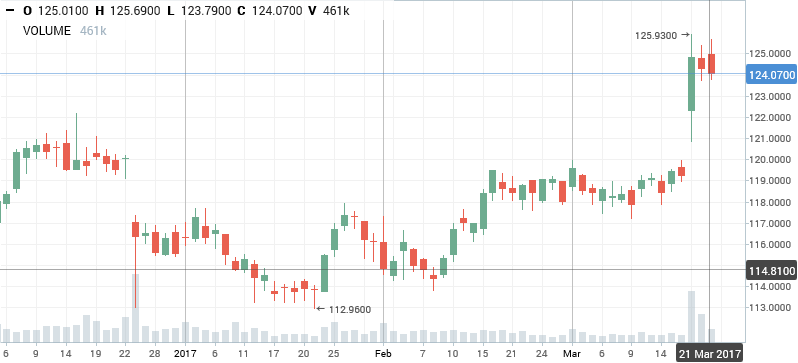 The market participants expect the following numbers over the next few quarters, including the upcoming one: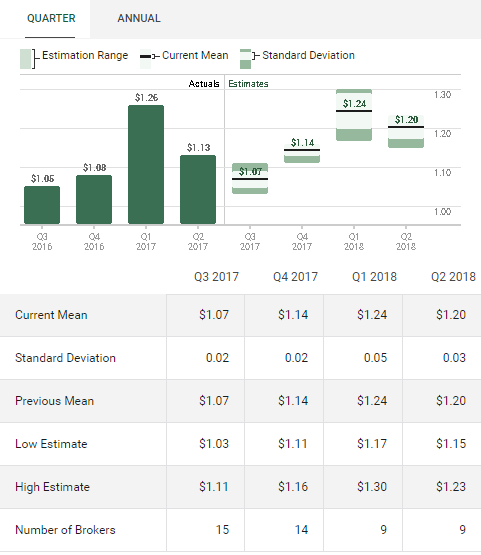 (Source: TD Waterhouse)
Market data show that the one-month options are undervalued: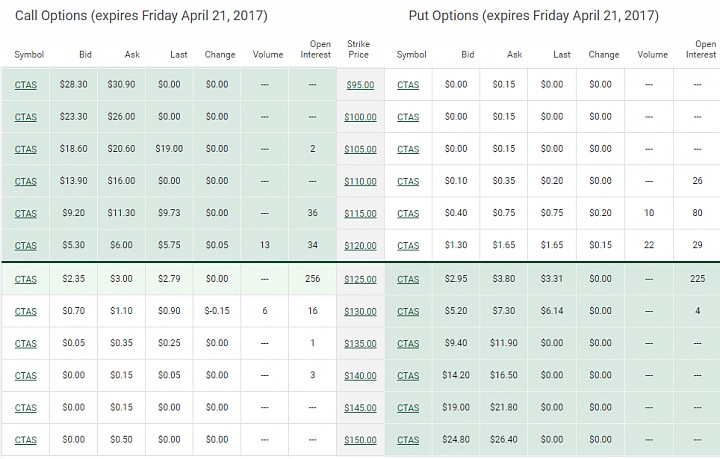 (Source: TD Waterhouse)
The one-month straddles (at-the-money options with a strike price of $125.00 and expiring on April 21, 2017) are worth around 4.9% of the current market price of the stock (including the calculation of the options' moneyness). Historically, the stock has been more volatile than that on a monthly basis over the last year:

(Source: Google Finance. Calculations by author)
As you can see, the stock has had a monthly standard deviation of around 5.3% over the last 52 weeks, while the straddle expiring in thirty calendar days has an implied monthly volatility of around 6.3% (calculated based on 30 calendar days remaining until expiration), also including volatility from the earnings event this week. I therefore see signs of undervaluation in these options.
Hence, buying the straddles is a good idea from a theoretical standpoint.