Here Is How I Am Playing GameStop's Earnings Today
GameStop Corp. (GME) is an omnichannel video game retailer. The Company sells video game hardware, physical and digital video game software, video game accessories, as well as mobile and consumer electronics products and other merchandise through its GameStop, EB Games and Micromania stores. The Company operates its business in four Video Game Brands segments: United States, Canada, Australia and Europe, and Technology Brands segment. Each of the Video Game Brands segments consists of retail operations, with all stores engaged in the sale of new and pre-owned video game systems, software and accessories. Its Video Game Brands stores sell various types of digital products, including downloadable content, network points cards, prepaid digital, prepaid subscription cards and digitally downloadable software, and also sell certain mobile and consumer electronics products and collectible products. Its Technology Brands segment includes its Spring Mobile and Simply Mac businesses.
It is reporting earnings on Thursday, March 23, after market close: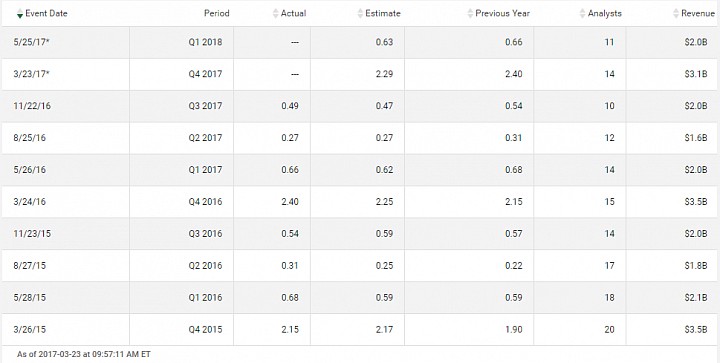 (Source: TD Waterhouse)
As evident from the above, the company has beaten earnings estimates in 63% of time and underperformed or showing in-line results in the rest of time. It has seen significant volatility and a sideways trend in the market price of its stock over the last three months:
$GME
, GameStop Corporation / D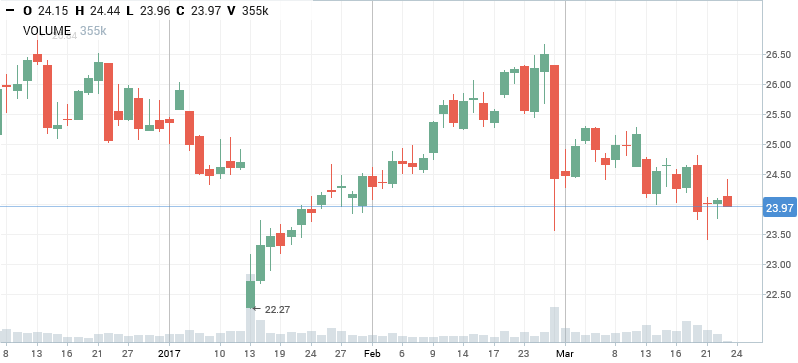 The market participants expect the following numbers over the next few quarters, including the upcoming one: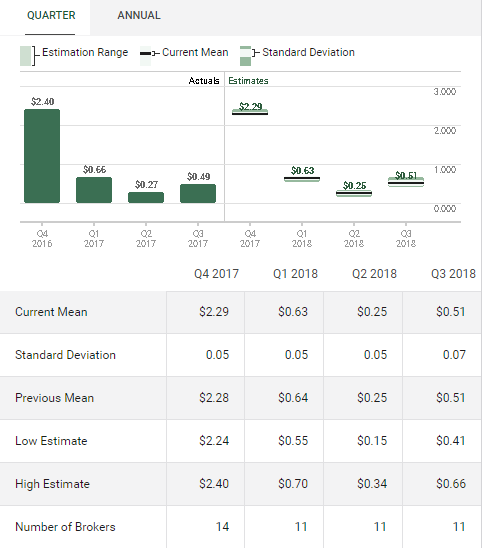 (Source: TD Waterhouse)
Market data show that the one-week options are overvalued: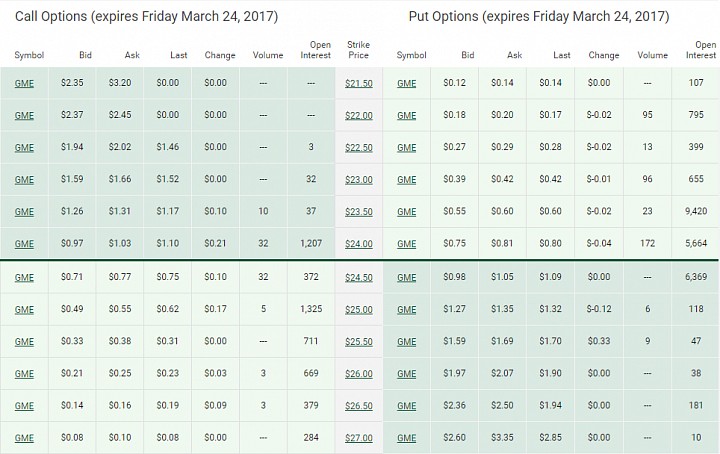 (Source: TD Waterhouse)
The one-week straddles (at-the-money options with a strike price of $24.00 and expiring on March 24, 2017) are worth around 7.9% of the current market price of the stock (including the calculation of the options' moneyness). Historically, the stock has been less volatile than that on a weekly basis over the last year:

(Source: Google Finance. Calculations by author)
As you can see, the stock has had a weekly standard deviation of around 4.8% over the last 52 weeks, while the straddle expiring in two days has an implied weekly volatility of around 3.0% (calculated based on 2 calendar days remaining until expiration), also including volatility from the earnings event this week. I therefore see signs of overvaluation in these options.
Hence, selling the straddles is a good idea from a theoretical standpoint.