I Am Being Bullish On NVIDIA Pre-Earnings And Here Is What I Am Intending To Do
NVIDIA Corporation (NVDA) is engaged in visual computing. The company operates through segments, including GPU and Tegra Processor. Its GPU businesses include GeForce for personal computer (PC) gaming; Quadro for design professionals working in computer-aided design, video editing, special effects and other creative applications; Tesla for deep learning and accelerated computing, leveraging the parallel computing capabilities of graphics processing units (GPUs) for general purpose computing, and GRID to provide the power of NVIDIA graphics through the cloud and datacenters. It is reporting earnings on Thursday, August 11, after market close:

(Source: TD Waterhouse)
As evident from the above, the company beat earnings estimates in 75% of time in the last eight quarters, underperforming in the rest of time, and has seen modest volatility in the market price of its stock over the last three months:
The market participants expect the following numbers over the next few quarters, including the upcoming one: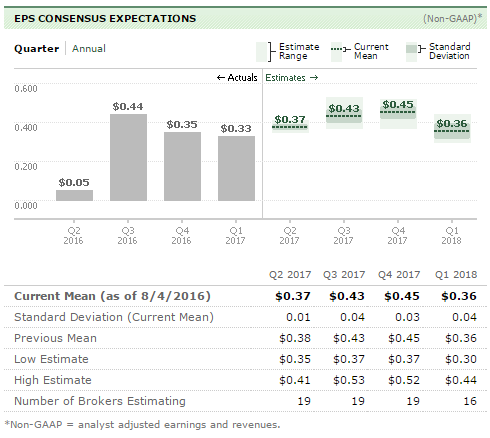 (Source: TD Waterhouse)
Market data show that the August options are a bit overvalued: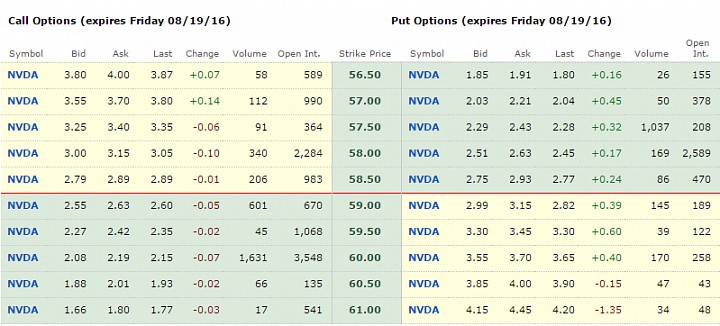 (Source: TD Waterhouse)
The two-week straddles (options with a strike price of $58.50 and expiring on August 19, 2016) are worth around 9.7% of the current market price of the stock. Historically, the stock has been less volatile than that on a monthly basis over the last year:

(Source: Google Finance. Calculations by author)
As you can see, the stock has had a monthly standard deviation of 10.7% over the last 52 weeks, while the straddle expiring in a bit less than two weeks has an implied monthly volatility of around 6.2% (calculated based on 7 business days remaining until expiration), also including volatility from the earnings event this week. I therefore see signs of modest overvaluation in these options. Hence, selling the straddles is a good idea from a theoretical standpoint. If you believe the stock is likely to go north rapidly, go ahead and buy call spreads.
Investors may also be interested in selling call options against the stock to lower the cost basis of their holdings:

(Source: optionsprofitcalculator.com)
On the one hand, this will limit expected returns. On the other hand, this action will minimize losses in the event the stock goes south over the next two weeks. The risk-return profile of this trade looks like this: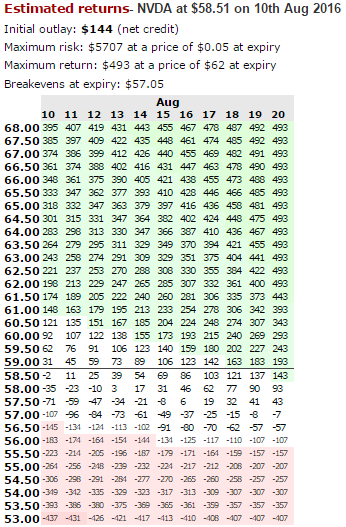 (Source: optionsprofitcalculator.com)
As you can see from the above illustration, Nvidia's investors can pocket a 65% annualized return in these three-week calls. On the other hand, if the stock goes higher than $62.00 per share (an increase of almost 6%) in the next two weeks, they will get a ~71% annualized return (the premium from the calls and the upside from the stock up to $62 per share).
What do you think of this trade?