Take A Closer Look Towards Argos Therapeutics`Calls Pre-Earnings
Argos Therapeutics, Inc. (ARGS) is an immuno-oncology company. The сompany is focused on the development and commercialization of individualized immunotherapies for the treatment of cancer and infectious diseases based on its technology platform called Arcelis. Its Arcelis technology platform utilizes biological components from a patient's own cancer cells or virus to generate individualized immunotherapies. It is reporting earnings on Wednesday, August 10, after market close:

As evident from the above, the company beat earnings estimates in 13% of time in the last eight quarters, underperforming or showing in-line results in 87% of time, and has seen significant volatility in the market price of its stock over the last three months:
<!== INSTRUMENT %% %60% ==!>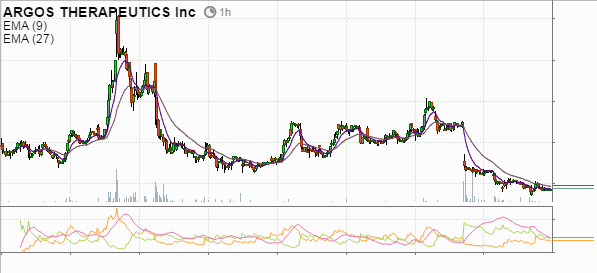 The market participants expect the following numbers over the next few quarters, including the upcoming one: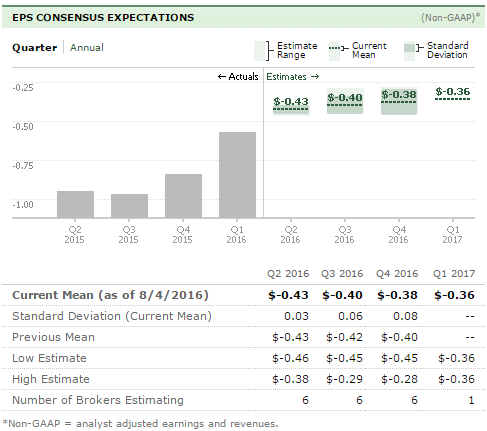 (Source: TD Waterhouse)
Market data show that the August options are a bit undervalued:

(Source: TD Waterhouse)
The two-week straddles (options with a strike price of $5.00 and expiring on August 19, 2016) are worth around 17.5% of the current market price of the stock. Historically, the stock has been more volatile than that on a monthly basis over the last year:

(Source: Google Finance. Calculations by author)
As you can see, the stock has had a monthly standard deviation of 34.4% over the last 52 weeks, while the straddle expiring in a bit less than two weeks has an implied monthly volatility of around 21.3% (calculated based on 8 business days remaining until expiration), also including volatility from the earnings event this week. I therefore see signs of substantial undervaluation in these options. Hence, buying the straddles is a good idea from a theoretical standpoint. However, given the absence of volumes on the puts side, buying calls seems like the only reasonable trade:

(Source: optionsprofitcalculator.com)
The risk-return profile of this trade looks like this: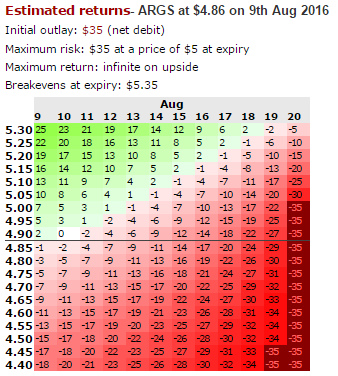 (Source: optionsprofitcalculator.com)
As you can see from the above illustration, the "window of safety" is around 10.0%. This means that the stock has to move roughly 10% upwards from the current price by expiration in order for investors to break-even. The upside potential is unlimited with this trade.