Cash Is King, Net Income Is Just An Opinion - The Case For Amazon
Actually, Amazon (AMZN) has made money, if you look into its historical financial statements. But that is beside the point. I want to talk about Amazon's valuation from a cash flow's standpoint. From a net income standpoint, the company is grossly overvalued with a P/E multiple of over 1000x, according to Google Finance!
Spoiler: I do think Amazon is overvalued, so don't try to argue with me on that.
But here is what I wanted to draw your attention to: cash flow. Let us try to look at the company from this standpoint. I am pulling the latest quarterly report and here is what I see: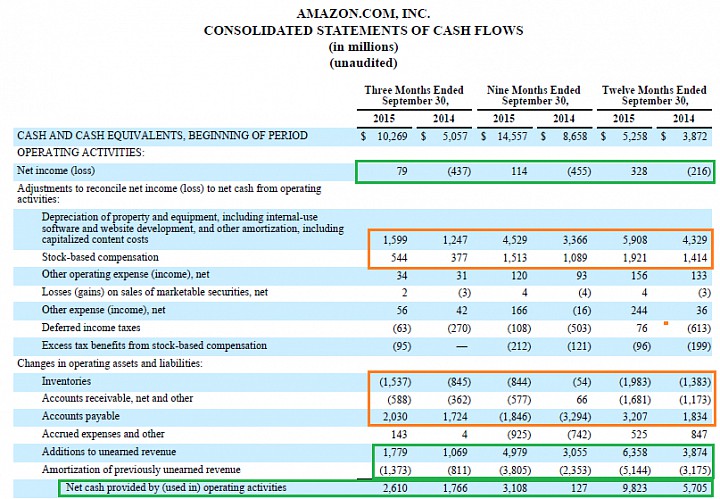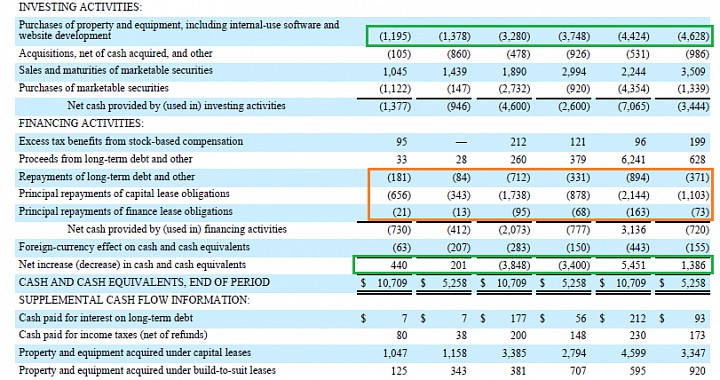 (Source: Latest 10-Q Report)
Key findings:
- Net income represents a small part of operating cash flows: only about 3% of CFO for the last twelve months. Working capital accounts (A/R, A/P, Inventory, Unearned Revenue) are the biggest factors here. The company proves to be successful in managing them efficiently. You can see how drastically the figures have grown over the last year.
- CapEx has slightly decreased on all presented time frames. However, cash outflows from investing activities have become larger. We see that investments in marketable securities are the biggest source of cash drainage behind CapEx.
- Debts seem to be repaid with a $2B+ cheque in the last nine months.
- Amazon generates free cash flows (Russ Hanneman from Silicon Valley is not aware of that, apparently) which is why the company's bank account has almost double in the past twelve months.
Now what about the valuation? If we want to calculate a multiple using cash flows as the denominator, we have to find a suitable numerator for that. Because free cash flows (in this case calculated as operating cash flows less CapEx) are attributable to all owners of the firm, we cannot use market capitalization only. Thankfully, we have something called Enterprise Value (EV). The EV formula can get complicated, so we are going to use the simplest form, which looks like this:
Enterprise Value = Market Capitalization + Total Debt - Cash + Non-Controlling Interest
Keep in mind that by using the above EV formula, we are evaluating the holding's assets, not the parent company's only (i.e. shareholders of Amazon are paying for minority stakes).
According to my calculations, Amazon's EV is currently around $313B. Dividing the number by a free cash flow figure of $5.4B, we get a multiple of ~58.0x. Now, this is still enormous but it is nowhere near the 1000x P/E multiple!
Free cash flow can be used by the company for any purpose, including debt repayment, dividends, buybacks, and other activities. The $5B+ figure sound optimistic but keep in mind that Amazon has the following debt obligations in the next five years: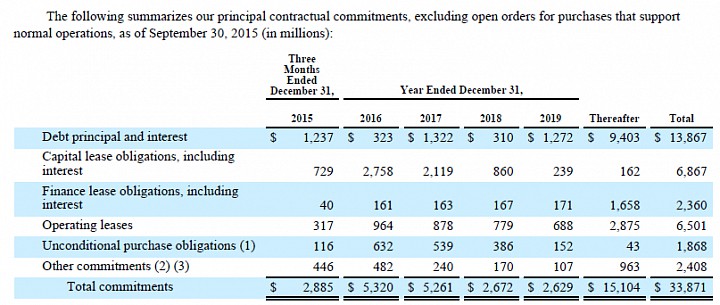 (Source: Latest 10-Q Report)
If we assume free cash flows north of $5B for the next five fiscal years, we can see that most of the money will be used in debt repayment. This is why any significant share buybacks or dividends are unlikely in the mid-term. 
The bottom line is, Amazon is, undoubtedly, overvalued. However, unlike Tesla and the like, the company does incur positive free cash flows on a regular basis, as the data show.