Here Is How To Ride Volatility In Aratana Therapeutics During Earnings Later Today
Aratana Therapeutics, Inc. (PETX) is a pet therapeutics company focused on licensing, developing and commercializing of biopharmaceutical products for companion animals. The Company's portfolio includes therapeutic candidates in development consisting of small molecule pharmaceuticals and large molecule biologics that target medical conditions in pets.
It is reporting earnings on Monday, March 13, after market close: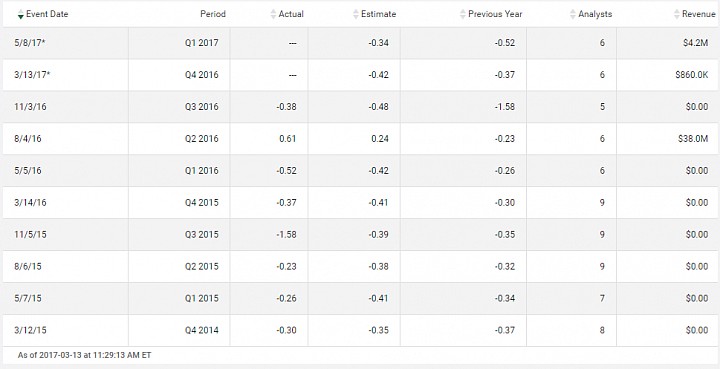 (Source: TD Waterhouse)
As evident from the above, the company beat earnings estimates in 75% of time in the last six quarters, showing in-line results in 0% of time, and underperforming in the rest of time. It has seen significant volatility and a sharp downtrend in the market price of its stock over the last three months:
$PETX
, Aratana Therapeutics, Inc. / D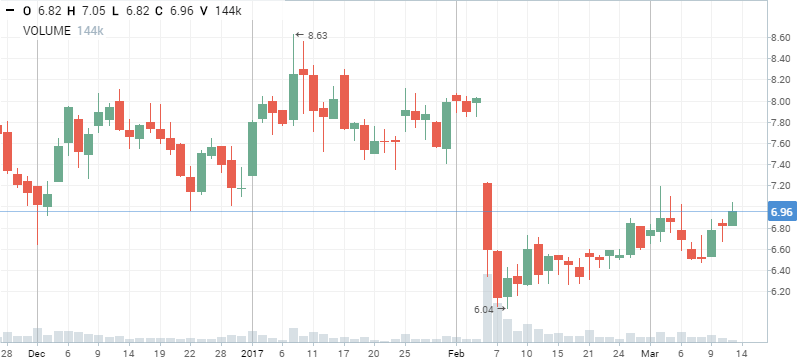 The market participants expect the following numbers over the next few quarters, including the upcoming one: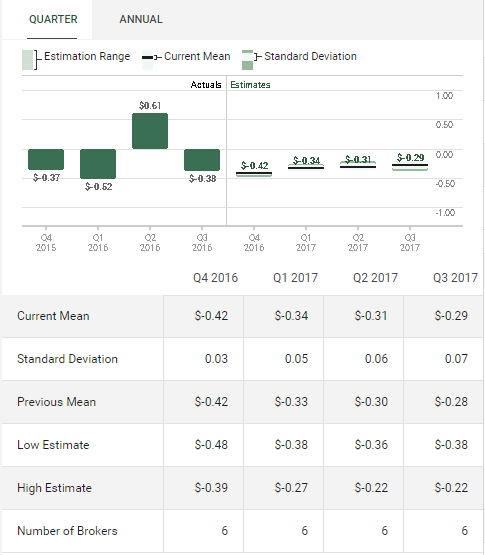 (Source: TD Waterhouse)
Market data show that the one-week options are undervalued:

(Source: TD Waterhouse)
The one-week straddles (at-the-money options with a strike price of $7.50 and expiring on March 17, 2017) are worth around 2.9% of the current market price of the stock (including the calculation of the options' moneyness). Historically, the stock has been more volatile than that on a weekly basis over the last year:

(Source: Google Finance. Calculations by author)
As you can see, the stock has had a weekly standard deviation of around 10.9% over the last 52 weeks, while the straddle expiring in five days has an implied monthly volatility of around 11.1% (calculated based on 5 calendar days remaining until expiration), also including volatility from the earnings event this week. I therefore see signs of undervaluation in these options.
Hence, buying the straddles is a good idea from a theoretical standpoint.