Buy Turkish Volatility (Again)
My previous trade on the Turkish Market iShares MSCI Turkey (TUR) ETF's options, posted about two weeks ago, flopped for one and only reason: coup d'etat, which is taking place in the Turkish capital as of the time of writing. Reuters just reported that the army is taking control of the country's political power. There is no information about casualties yet.
As you remember, in the end of June, the Istanbul Airport was attacked by the ISIS terrorists. Today, the elected government is attacked by would-be dictators. Clearly, the financial decision you can make as a bystander is to buy volatility on the Turkish market. The strategy is already proving itself as the Turkish market has lost over 7% in just the past hour: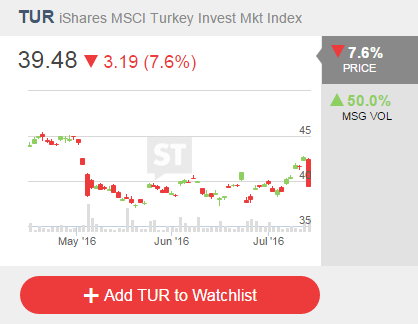 (Source: Stocktwits.com)
The 7%+ fall is a two-standard-deviation event, according to historical data:

(Source: Google Finance. Calculations by author)
One of the best and simplest ways to play volatility is to buy straddles:

(Source: optionsprofitcalculator.com)
The straddles has become expensive - around 10% of the current market price of the ETF's unit. It will get even more expensive by Monday's market opening. Unfortunately, there is no way to purchase the options now as the market is currently closed. However, I suggest that you buy them on Monday, even if the price doubles. The military uprising has a lot more serious consequences than the terrorist attack as it involves uncertainty about the country's democratic and economic future. Be sure about one thing: the perfect storm is on the way to hit the Turkish capital markets. 
The suggested straddle has the following risk-reward profile: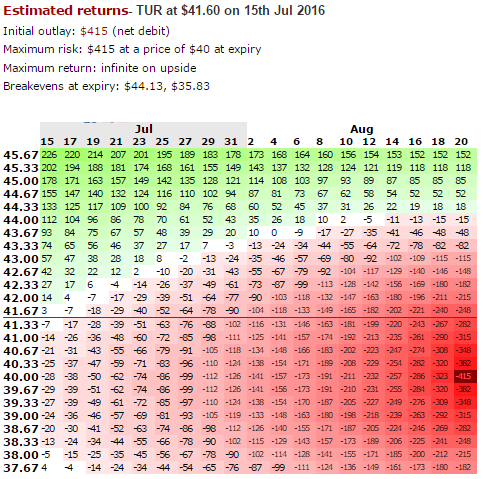 (Source: optionsprofitcalculator.com) 
The "window of safety" is quite large and exceeds 20% of the ETF's market price. This is expensive by any means - this was expensive prior to the events that took place just two hours ago. Of course, if you are uneasy with the cost of the straddle, go ahead and sell a strangle as well, in order to offset the cost of the purchased options. However, in my opinion, the market will hit through the floor next week, and the options' mispricing will be apparent and result in profits for the buyers.
Stay tuned to live news about Turkey. My friends in Turkey say, "It [the coup] started like a real half-assed attempt at the beginning" but "it definitely looks real now". History is being made in front of our very eyes.