AutoNation Inc.: A Stock To Go With When You Switch From CarMax
Yesterday, I wrote an analysis on CarMax (KMX), an auto-retailer that specializes on selling used cars (on credit, as well). I said that I hold a negative opinion on the stock and suggested that readers sold this stock short. Today, I will analyze CarMax's major rival - AutoNation Inc. (AN), an auto-retailer that specializes on selling NEW cars. Its stock has done fairly well relative to the market over the past 52 weeks: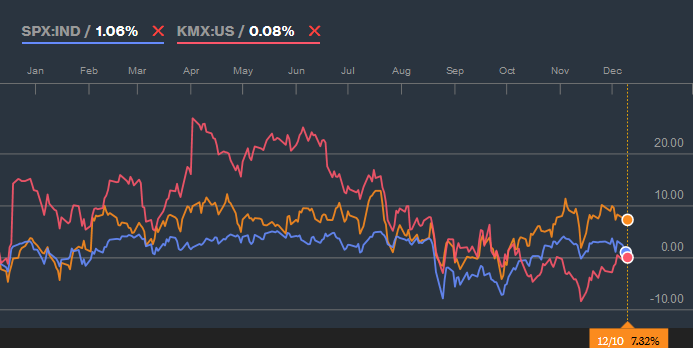 (Source: Bloomberg)
Note: the share's performance is compared to the performance of the S&P 500 Index and CarMax's stock.
Readers can see that the stock actually returned over 7% over the past year. Unfortunately, it does not pay dividends.
Comparing AutoNation to the industry, we see the following results: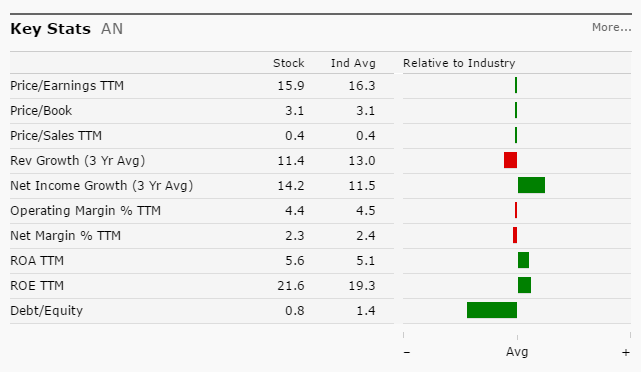 (Source: Morningstar)
A few positive points:
- A lower-than-average P/E ratio: it currently stands at 15.6x, according to Google Finance.
- A higher-than average EPS growth rate at a much lower-than-average Debt-to-Equity ratio. Keep in mind that a higher D/E ratio typically artificially inflates earnings growth and the return on equity (ROE). However, the company has showed a lower-than-average revenue growth rate over the past three years. 
- Returns on assets and equity have been higher than the average in the selected time frame.
I am going to skip the company's Income Statement, which you can see in the latest 10Q Report, and stop your attention at the Cash Flow Statement. There is A LOT of difference between AutoNation's and CarMax's statements, even though they operate in a very similar environment: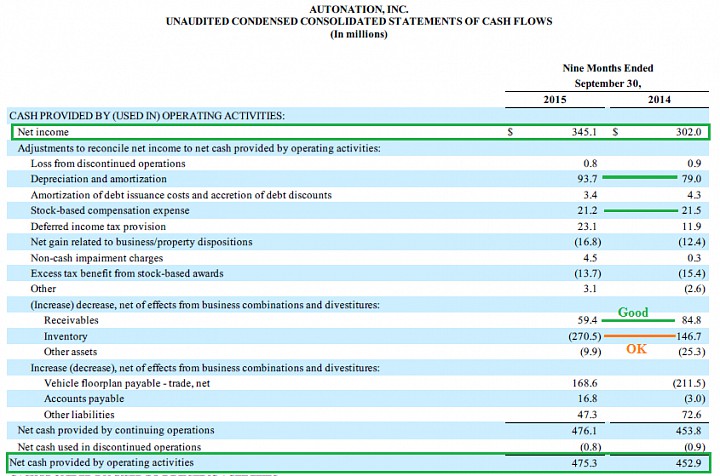 (Source: Latest 10Q Report)
Readers can see two major differences between AutoNation's financials and CarMax's:
(1) AutoNation actually has had DECREASING accounts receivable year-over-year, while CarMax has been growing its receivables in line with revenue growth. Therefore, AutoNation has to reinvest MUCH LESS cash into the business, as opposed to CarMax;
(2) As a result of (1), AutoNation has been generating significant cash flows from operations - almost $0.5B in the last 9 months. I expect it to go over this figure by the end of the fiscal year. On contrary, CarMax has been using cash in operations while growing. It is currently about $80M in the hole, according to this metric. This, however, is much better than what the company posted a year ago: a staggering $430M+ cash outflow as a result of operations. Also keep in mind that AutoNation has a market capitalization of about $7B, while CarMax has a market cap of almost $20B. Yet the latter company does not generate any cash from its business!
What does the second point in the above list imply? The major implication is that CarMax, as opposed to AutoNation, is not a self-sustaining business. In other words, it has to raise cash elsewhere in order to continue growing (or even staying afloat!). This is well-demonstrated in the other two parts of the Cash Flow Statements: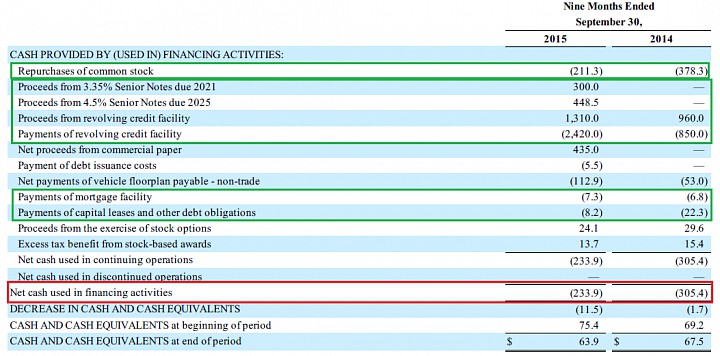 (Source: Latest 10Q Report)
Key points here:
- Both companies spend on CapEx which is understandable. As a company grows, it needs to invest more and more money to finance its further growth;
- AutoNation, as opposed to CarMax, actually spends money on share repurchases, although the company does not pay dividends, which is unfortunate;
- AutoNation spends money on deleveraging. It also issues debt but this is not done on a regular basis (i.e. as a part of business operations). On contrary, CarMax has to raise debt to finance credit sales: the company raised $5.1B in debt during the last nine months vs. $3.8B during the same period in 2014;
- AutoNation can afford to use cash in financing activities (and overall) because it generates sufficient cash from operating activities. CarMax, on the other hand, raised over $700M in financing activities over the last two years or so. This is not good because it shows that the company is dependent on external financing.
Despite all the reasons above, CarMax has a higher valuation than AutoNation: a P/E ratio of almost 20.0x vs. AutoNation's 15.6x.
If I somebody offered me to own CarMax or AutoNation outright, I would pick AutoNation in no time, even though CarMax is almost twice as big as AutoNation. If had employed a long-short equity strategy, I would short CarMax's shares and buy AutoNation's stock with the proceeds.