Interpreting Nike's Quarterly Results
I wrote about Nike (NKE) a few days ago, valuing the company between $106 - $135 per share, as per my DCF model. Today, Nike released quarterly earnings after the market closing. The company's shares ended up 1.5% higher today and gained another in the after-hours, breaching the $135 mark: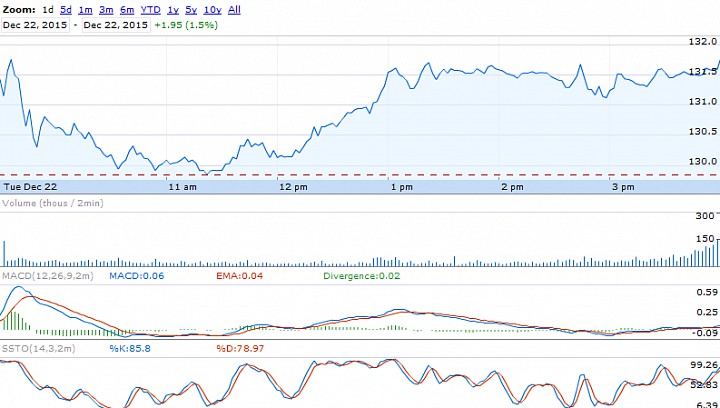 (Source: Google Finance)
So, let us go over the results together and see if they demand a revision of the existing valuation model.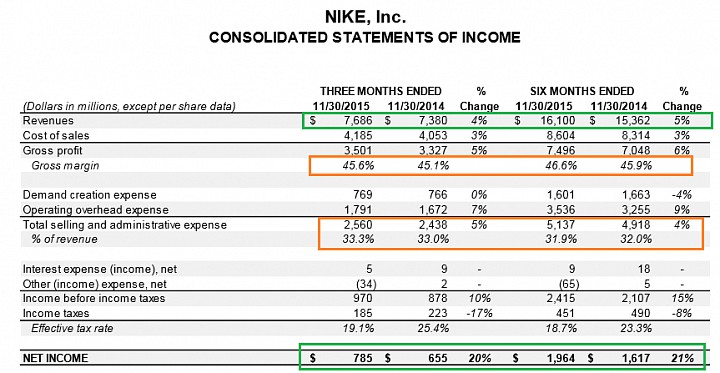 (Source: Q2 Report)
Key findings:
- Revenues have grown about 5% for the last six months over the same period a year before. In my model, the growth rates varies from year to year but the average rate is in the neighborhood of 7%. Hence, my model is slightly optimistic when compared to these data.
- In Q2, the SG&A expense was one percentage point higher than the six-month margin. It looks like it is a seasonal thing - SG&A / Revenues was 33% last year, as well.
- The net income margin was 12% for the six months and 10% for the three months ended. In my model, the margin is at about 10.5% of revenues which is just about right, according to the quarterly report. The average annual net income growth rate in the DCF model is at 5.5%, which is a lot less than what the company has delivered over the last six months. Nike is really a bit more efficient than what I have estimated it to be. I may be overly conservative in this case but keep in mind that the five-year average income growth rate has been at around 11.5%, which is a lot less than the current record. I imagine that the margin boosts are temporary and mostly come as a results of tax optimization activities (compare the effective tax rates above to the figures of the past).
Overall, it looks like I need to be a little more optimistic in my estimates about net income growth. However, keep in mind that "cash flows is a fact. Net income is just an opinion", as Professor Pablo Fernandez of University of Navarra wrote in his recent book on corporate finance. Unfortunately, Nike has not provided figures on the cash flow situation in the earnings report, so we have to proceed to the balance sheet: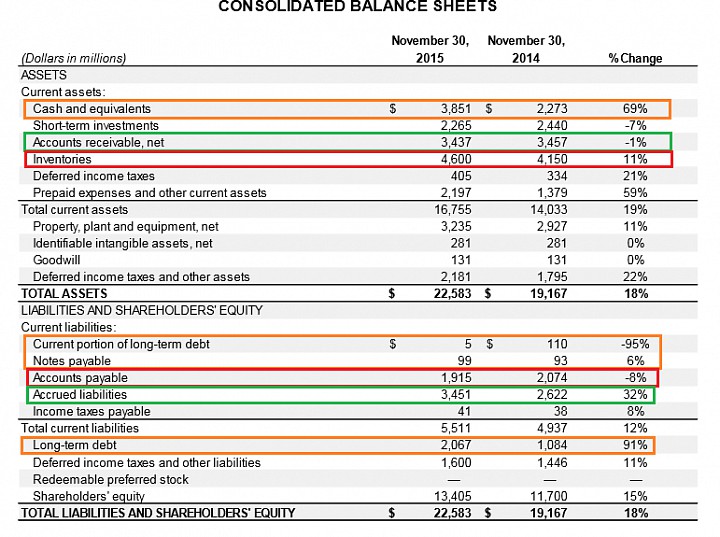 (Source: Q2 Report)
Major remarks:
- Cash is up by almost 70% but I do not personally have an opinion on whether it is positive or not. The company is not in a liquidity crisis, and the extra cash balance only makes the company cheaper (recall the Enterprise Value formula).
- Accounts receivable are down. This is a good thing because it helped reduce investments in working capital and release some cash (about $20M).
- Inventories are up by 11%, while accounts payable are down 8% for the same time period. This means that the company not only had to finance its inventories by itself but also cut down on credits from suppliers. This took away cash from shareholders. However, the growth in inventories was somewhat mitigated by the fact that revenues are up by 12% over the year (excluding currency headwinds).
- The current portion of long-term debt is down, while the long-term debt doubled to over $2B. On the one hand, this helped improve liquidity. On the other hand, $100M+ is not a critical number for Nike. Because we I do not have a cash flow statement in front of me, I cannot see exactly where the extra $1B went. It seems to me that it just went into the bank account (Nike boosted dividends by 14% to about $860M per year but this mostly comes out from operating cash flows).
- Shareholders' Equity is "only" up by 15%: Nike pays ~28% of its net income in dividends and also spends a large chunk of money on buybacks (over $2B in fiscal 2015 and already $460M in Q1 2015). Again, we do not have all information because of the lack of the current cash flow statement.
Nike's balance sheet is solid: lots of cash, a low level of debt relative to assets, and growing equity. The only point of concern here is inventory - its increases outstrip the currency-adjusted revenue growth rates. However, I think this is just a temporary problem.
Now let us turn to other material information.
"During the second quarter, NIKE, Inc. repurchased a total of 5.6 million shares for approximately $652 million as part of the four-year, $8 billion program approved by the Board of Directors in September 2012. As of the end of the second quarter, a total of 92 million shares had been repurchased under this program for $7.2 billion, an average cost of approximately $78.19 per share."

It looks like the share repurchase program is about to end, now that it is done by about 90%. This has two effects: 
(1) Per-share metrics will start growing slower, fueled only by income statement items (e.g. EPS);
(2) Demand for the company's shares will weaken. The magnitude of this weakness is unknown to me at this point in time. I think that, in the absence of material information, Nike's shares will continue growing after a short-lived plateau. 
"As of the end of the quarter, worldwide futures orders for NIKE Brand athletic footwear and apparel scheduled for delivery from December 2015 through April 2016 were 15 percent higher than orders reported for the same period last year. Excluding currency changes, futures orders would have increased 20 percent".
Futures in this case is essentially Nike's backlog or "unearned revenues". Unfortunately, I do not have exact figures on this account because Nike does not separate it into a different line on the statement.
"On November 19, 2015, the Company announced a two-for-one split of both NIKE Class A and Class B Common Stock. The Company expects its common stock to begin trading at the split-adjusted price on December 24, 2015. As the common stock is not yet trading on a post-split basis, all share and per-share amounts in this earnings release and the accompanying schedules are presented on a pre-split basis".
Stock splits by themselves do absolutely nothing to the company's equity - they do not increase it, nor decrease it. A 2-for-1 split simply cuts the closing share price by half and automatically increases the number of share outstanding by a factor of 2.0x. However, the market does not always react neutrally to this. A company typically performs a split in order to make its stock's price look "less expensive" purely psychologically (you should know that relative valuation is more important that absolute figures) and boost liquidity (i.e.more shares on the market at a cheaper price means likely more transactions and volume on the exchange in the future). I really do not see why investors should wait to buy or sell the stock before the split. If anyone tells you to wait, ignore him/her. Stock splits are absolutely harmless.
So, Nike has had a pretty good second quarter in fiscal 2015. Despite that, I an willing to revise my valuation model and leave the fair value range at $106 - $135 per share. My pessimism about bottom line growth is offset by above-average expectations about the top line. With that said, keep in mind that there is nothing wrong with buying at fair value. All that matters is whether you are okay with the absence of the so-called margin of safety and with the expected growth rates (dictated by the CAPM model). Currently, they are at about 6.5% - 7.5%, given the company's beta and geographical premiums. Are you okay with 6.5% - 7.5% (the ~1% dividend yield is a part of that) per year in the long-term? I am not - I am generally aiming for a higher return at the same level of risk.