Sell Acacia's Overvalued Calls Pre-Earnings And Hedge With Stock
Acacia Communications, Inc. (ACIA) is engaged in delivering coherent optical interconnect products. The company offers its products for communications networks, relied upon by cloud infrastructure operators, and content and communication service providers. Its products include a series of low-power coherent digital signal processor application-specific integrated circuits (DSP ASICs) and silicon photonic integrated circuits (silicon PICs), which it has integrated into families of optical interconnect modules with transmission speeds ranging from 40 to 400 gigabits per second (Gbps) for use in metro and inter-data center markets. It is reporting earnings on Thursday, August 11, after market close.
The market participants expect the following numbers over the next few quarters, including the upcoming one: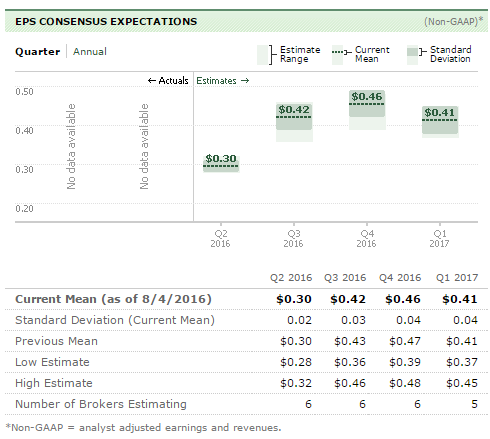 (Source: TD Waterhouse)
Market data show that the August options are a bit overvalued: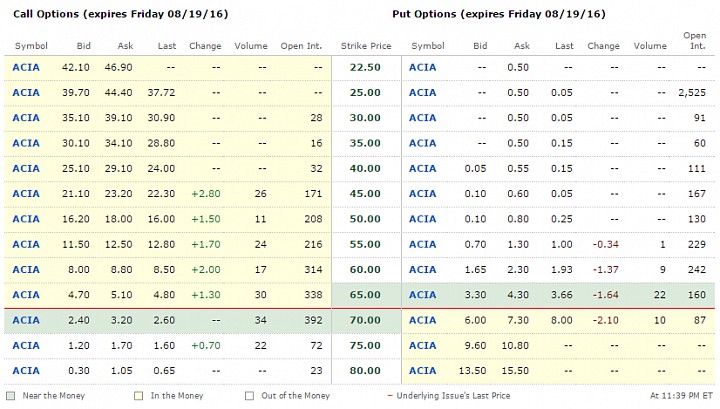 (Source: TD Waterhouse)
The two-week straddles (options with a strike price of $70.00 and expiring on August 19, 2016) are worth around 15.8% of the current market price of the stock. Historically, the stock has been more volatile than that on a monthly basis over the last year:

(Source: Google Finance. Calculations by author)
As you can see, the stock has had a monthly standard deviation of 22.7% since its IPO in May 2016, while the straddle expiring in a bit less than two weeks has an implied monthly volatility of around 14.0% (calculated based on 8 business days remaining until expiration), also including volatility from the earnings event this week. I therefore see signs of modest overvaluation in these options. Hence, selling the straddles is a good idea from a theoretical standpoint.
Investors may also be interested in selling call options against the stock to lower the cost basis of their holdings:

(Source: optionsprofitcalculator.com)
On the one hand, this will limit expected returns. On the other hand, this action will minimize losses in the event the stock goes south over the next two weeks. The risk-return profile of this trade looks like this: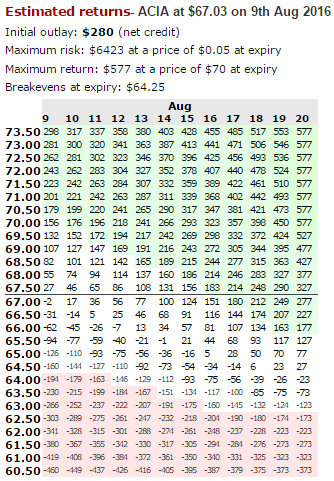 (Source: optionsprofitcalculator.com)
As you can see from the above illustration, Acacia's investors can pocket a ~108% annualized return in these two-week calls. On the other hand, if the stock goes higher than $70.00 per share (an increase of over 4%) in the next two weeks, they will get a ~230% annualized return (the premium from the calls and the upside from the stock up to $70.00 per share).
What do you think of this trade?