Petrobras Can Surprise Us Next Week: Here Is What To Do
Petroleo Brasileiro SA (PBR) is a Brazil-based integrated oil and gas company. The Company's activities are divided into five business segments: Exploration and Production (E&P), which focuses on the exploration, development and production of crude oil, natural gas liquid (NGL) and natural gas in Brazil and abroad; Refining, Transportation and Marketing, which mainly covers the refining, logistics, transport and trading of crude oil and oil products, export of ethanol, as well as extraction and processing of shale; Gas and Power, which includes transportation and trading of LNG and natural gas, as well as generation and sale of electricity; Distribution, which sells oil products through own retail network and wholesale channels, and Biofuels, which includes the production of biodiesel and its co-products, as well as ethanol-related activities.
It is reporting earnings on Tuesday, March 21, after market close: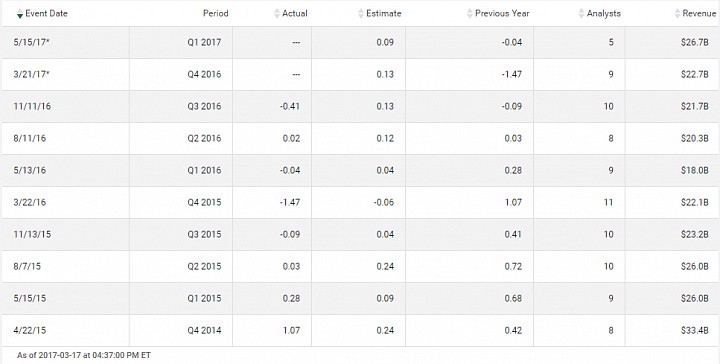 (Source: TD Waterhouse)
As evident from the above, the company has beaten earnings estimates in 25% of time and underperformed in the rest of time. It has seen significant volatility and a strong downtrend in the market price of its stock over the last three months (a 25% decline):
$PBR
, Petroleo Brasileiro S.A.- Petrobras / D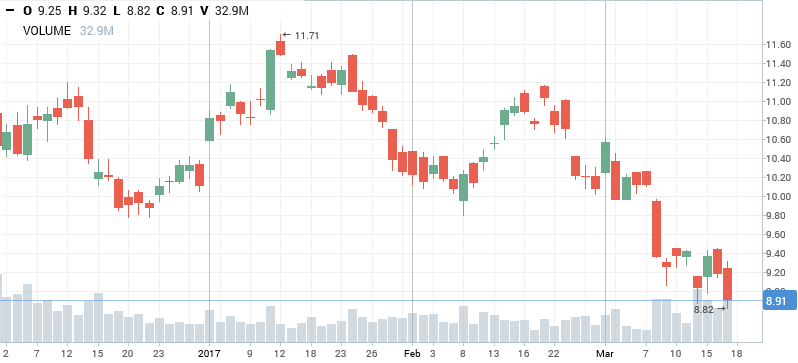 The market participants expect the following numbers over the next few quarters, including the upcoming one: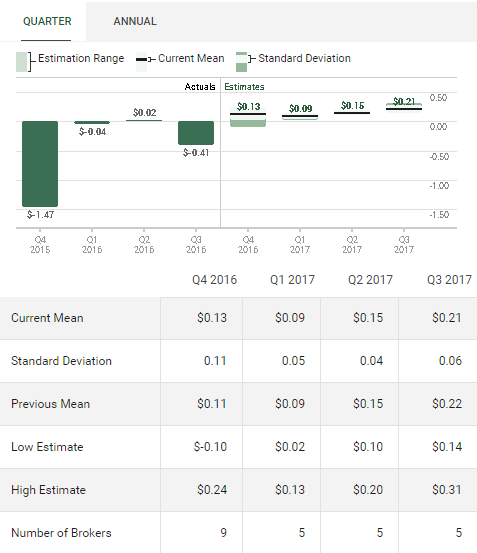 (Source: TD Waterhouse)
Market data show that the one-week options are undervalued: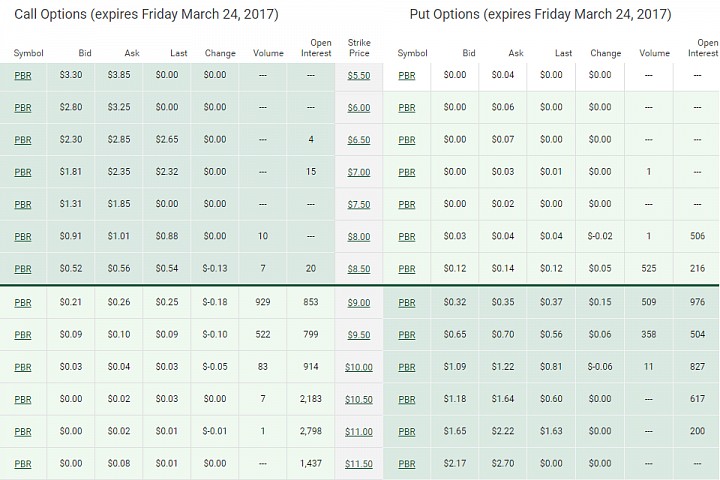 (Source: TD Waterhouse)
The one-week straddles (at-the-money options with a strike price of $8.50 and expiring on April 21, 2017) are worth around 7.4% of the current market price of the stock (including the calculation of the options' moneyness). Historically, the stock has been more volatile than that on a weekly basis over the last year:

(Source: Google Finance. Calculations by author)
As you can see, the stock has had a weekly standard deviation of around 7.6% over the last 52 weeks, while the straddle expiring in one week days has an implied weekly volatility of around 9.1% (calculated based on 7 calendar days remaining until expiration), also including volatility from the earnings event next week. I therefore see signs of undervaluation in these options.
Hence, buying the straddles is a good idea from a theoretical standpoint.