Sell Nike's Options Pre-Earnings: They Are Overvalued!
NIKE, Inc. (NKE) is engaged in the design, development, marketing and selling of athletic footwear, apparel, equipment, accessories and services. The Company's operating segments include North America, Western Europe, Central & Eastern Europe, Greater China, Japan and Emerging Markets. Its portfolio brands include the NIKE Brand, Jordan Brand, Hurley and Converse. As of May 31, 2016, the Company focused its NIKE brand product offerings in nine categories: Running, NIKE Basketball, the Jordan Brand, Football (Soccer), Men's Training, Women's Training, Action Sports, Sportswear (its sports-inspired lifestyle products) and Golf. Men's Training includes its baseball and American football product offerings. It also markets products designed for kids, as well as for other athletic and recreational uses, such as cricket, lacrosse, tennis, volleyball, wrestling, walking and outdoor activities.
It is reporting earnings on Tuesday, March 21, after market close: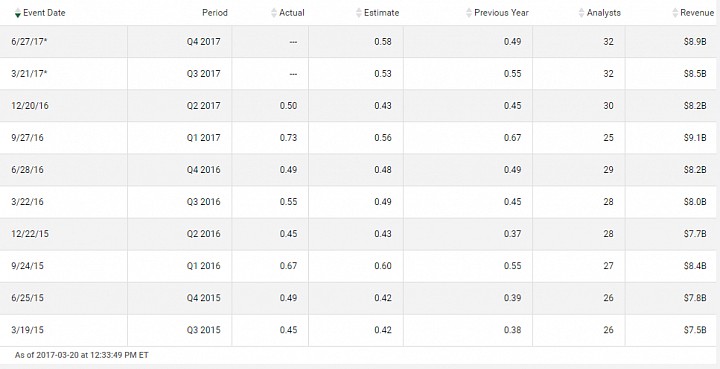 (Source: TD Waterhouse)
As evident from the above, the company has beaten earnings estimates in 100% of time and never underperformed in the last eight quarters. It has seen modest volatility and a strong uptrend in the market price of its stock over the last three months (a 25% decline):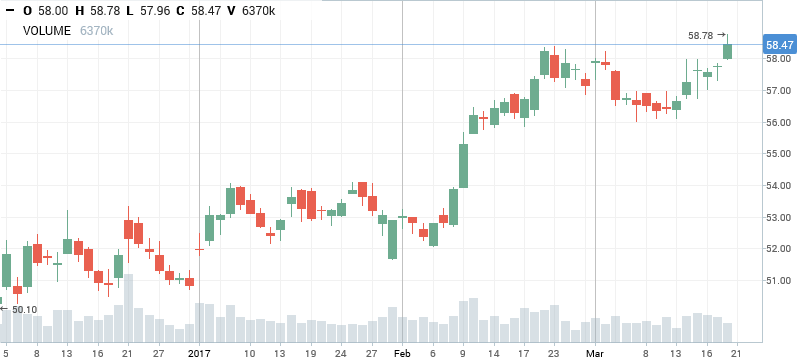 The market participants expect the following numbers over the next few quarters, including the upcoming one: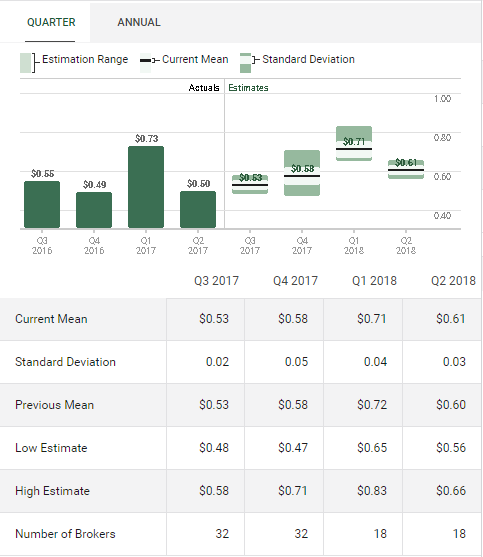 (Source: TD Waterhouse)
Market data show that the one-week options are overvalued: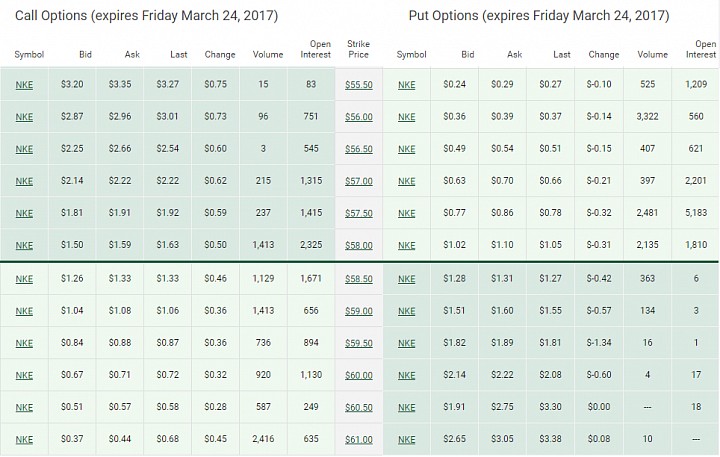 (Source: TD Waterhouse)
The one-week straddles (at-the-money options with a strike price of $58.50 and expiring on March 24, 2017) are worth around 4.4% of the current market price of the stock (including the calculation of the options' moneyness). Historically, the stock has been less volatile than that on a weekly basis over the last year:

(Source: Google Finance. Calculations by author)
As you can see, the stock has had a weekly standard deviation of around 2.7% over the last 52 weeks, while the straddle expiring in five calendar days has an implied weekly volatility of around 2.7% (calculated based on 5 calendar days remaining until expiration), also including volatility from the earnings event this week. I therefore see signs of overvaluation in these options.
Hence, selling the straddles is a good idea from a theoretical standpoint.