Five Stocks To Own In The New Rates Environment (Cont'd)
Yesterday, after the market close, I built a list of FIVE stocks that I believe may be good long-term bets in the new rates environment. My main selection criteria were:
(1) Zero long-term debt;
(2) US (mostly) revenues;
(3) Revenue CAGR in excess of 5% for the last five years.
Today, I want to extend the list with five more names: American Public Education, Inc. (NasdaqGS:APEI), Urban Outfitters Inc. (NasdaqGS:URBN), Coffee Holding Company, Inc. (NasdaqCM:JVA), Krispy Kreme Doughnuts, Inc. (NYSE:KKD), and U.S. Auto Parts Network, Inc. (NasdaqGS:PRTS).
The companies' shares have shown rather modest returns over the past 52 weeks when compared to the broader market: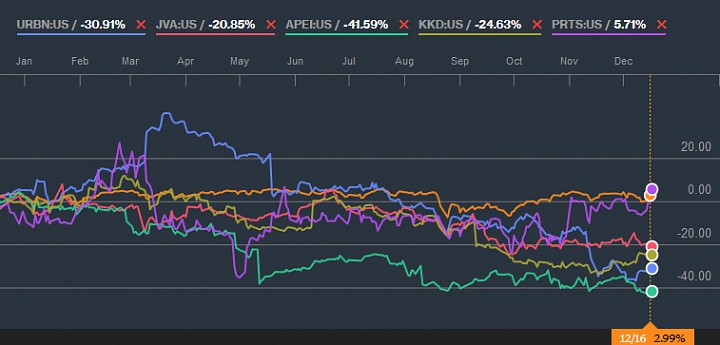 (Source: Bloomberg)
From the list above, only U.S. Auto Parts Network, Inc.has closed above S&P500 yesterday.
Nevertheless, let us not dig into the charts but analyze the underlying business. Keep in mind that the market does not always reflect the true value of the business (i.e. I am not an Efficient Market Hypothesis proponent). As before, I will outline one positive factor I found about the company or its stock and a negative one for each company on the list.
American Public Education, Inc.
According to Google Finance, "American Public Education, Inc. is a provider of online and on-campus post-secondary education. The Company operates through two subsidiary institutions: American Public University System, Inc. (APUS) and National Education Seminars, Inc., also referred as Hondros College of Nursing (HCON). The Company's operations are organized into two segments: American Public Education Segment (APEI Segment), which includes operational activities of APUS, other corporate activities and minority investments, and Hondros College of Nursing Segment (HCON Segment), which includes operational activities of HCON. APUS provides online post-secondary education to the military and public safety communities. HCON provides nursing education to students at four campuses in the State of Ohio, as well as online, to serve the needs of the nursing and healthcare community".
The Good: the company has been growing revenues at a CAGR of over 12% and consistently generates free cash flows over $30M per year (the current market capitalization of the company is over $340M). Besides that, its shares are currently trading only about 8%above the 52-week lows. This means that this may be a good time to capitalize on the bullish momentum.
The Bad: APEI's earnings are stagnant. Net income has stayed at a $40M mark for the last three fiscal years, and it looks like this year it can actually go under $40M for FY 2015 (Q3 '15 results were lower that Q3 '14). Although the stock's P/E ratio is just above 10.0x, this may very well mean that APEI is a value trap.
I recommend readers to pay close attention to this one before they make an investment decision.
Urban Outfitters, Inc.
The retail company does not need any introduction, which is why I am going to talk about the market's view on its stock. According to Dakota Financial News, Urban Outfitters, Inc. (NASDAQ:URBN) has earned a consensus rating of "Hold" from the forty brokerages that are covering the stock, MarketBeat reports. Twenty-six equities research analysts have rated the stock with a hold recommendation and twelve have given a buy recommendation to the company. The average 1-year price objective among analysts that have covered the stock in the last year is $29.95. The stock is currently hovering over $23 per share.Overall, the market is not overly bullish on this company, even though it has show a revenue CAGR of almost 9.5% over the past five years.
The Good: the company's earnings have grown by 25% over the past three years. Because Urban Outfitters spends significant amounts of cash on share buybacks (over $600M in FY 2014), EPS have actually grown by 41% over the period. The quarterly trend is also positive. This may not seem like a great growth dynamics but keep in mind that Urban Outfitters is a retailer, not a hot technology company.
The Bad: in the last earnings call, Urban Outfitters also announced its plans to "acquire Vetri Restaurants, with plans to expand the Pizzeria Vetri chain as a complement to its clothing stores" (Source: Motley Fool). This may seem puzzling but analysts "misinterpreted the partnership. In hopes of capitalizing on the trend among millennials to spend money on experiences rather than things, Urban plans to incorporate the restaurant into its lifestyle brand as it builds complexes designed to attract young people to shop and eat. For instance, the recently opened Project 2420 in Austin includes an expanded Urban Outfitters, three food and beverage concepts including a Pizzeria Vetri, and a performance space for live music events" (Source: Motley Fool).
I think that fundamentally Urban Outfitters is a great company that keeps looking for new ways to attract traffic into its stores and capitalize on new trends. Also, the holiday season seems to provide a bullish momentum for retailers and the like. It may be a good time to buy the stock before the end of the first quarter of 2016. Keep in mind that URBN trades only 20% above the 52 week low that was reached in early December.
Coffee Holding Company, Inc.
I personally love coffee. Hence, a coffee wholesaler with a 9% top line CAGR over the last five years, immediately caught my attention. Coffee Holding Company, Inc. conducts wholesale coffee operations, including manufacturing, roasting, packaging, marketing and distributing roasted and blended coffees for private labeled accounts and its own brands, and it sells green coffee. Its products are divided into three categories: wholesale green coffee, private label coffee and branded coffee. The wholesale green coffee includes unroasted raw beans imported from across the world and sold to roasters and coffee shop operators. The private label coffee consists of coffee roasted, blended, packaged and sold under the specifications and names of others, including supermarkets that want to have their own brand name on coffee. The branded coffee includes coffee roasted and blended according to the Company's own specifications and packaged and sold under the Company's seven and licensed brand names in different segments of the market (Source: Google Finance).
The small-cap with a market capitalization of almost $25M lost over 20% of its market value, mainly due to a significant volatility in its bottom line. Revenue growth has been negative in the last two fiscal years but it looks like the situation is improving: LTM revenues are at a $125M mark vs. FY 2014 results of only $108M. This is still below the peak sales level of ~$174M in 2012.
The Good: Coffee Holding Company is planning to buy out 3M shares off the market, effectively retiring about 10% of its total shares outstanding. This will cost the company about $12M and will significantly improve EPS.
The Bad: the company is barely generating any free cash flows and will most likely require external financing to fund growth in years to come. On the other hand, it has some debt capacity under the hood.
I would personally bet on this company for the long-term. It seems that the turnaround story is working. The company does not receive a lot of coverage: in fact, the only research coverage the company has attracted, was the Maxim Group, who had a $7 target price in place. The stock's book value is about $3.9 per share, according to the latest quarterly results. 
Krispy Kreme Doughnuts, Inc.
I tried Krispy Kreme's doughnuts in Toronto and I loved them. The problem was - there were not many stores in the city, and the existing ones were poorly located. Nevertheless, data show that the company forked up a 7.5%+ sales CAGR over the past five years. Nevertheless, the stock is down almost 25% on a YoY basis and still trades at a P/E ratio of over 32.0x. Even though Krispy Kreme is an international company with over 1000 stores worldwide, domestic sales account for almost 60% of total sales, according to the latest quarterly report.
The Good: the company is aiming for aggressive growth and plans to spend up to $35M on CapEx during the next year, adding 10 net Company stores, 20 net domestic franchise locations, and around 100 new international franchise stores. The growth is evident in the 50%+ increase in operating income over the past three fiscal years.
The Bad: strong US dollar will continue to be a major headwind in international operations, according to the company itself. If it was not for the growth, I would not even bother researching the stock.
In my opinion, Krispy Kreme operates in a very competitive environment without a lot of brand strength. In addition, healthy lifestyle trends may significantly affect the company's business in the long-term. In addition, I do not feel comfortable with a P/E ratio north of 30.0x with these risks.
U.S. Auto Parts Network, Inc.
U.S. Auto Parts Network, Inc. (U.S. Auto Parts) is an online source for automotive aftermarket parts and repair information. The Company is an online provider of aftermarket auto parts, including body parts, hard parts and performance parts and accessories. Its Websites provide a range of stock keeping units (SKUs) with detailed product descriptions and photographs. The Company operates through two segments: Base USAP, which is the core auto parts business, and AutoMD, an online automotive repair source. The Company offers a range of aftermarket auto parts. The Company classifies its products into three categories: body parts serving the collision repair segment, hard parts to serve the replacement/wear parts market and performance parts and accessories. The Company sells its products through its network of Websites and online marketplaces, including www.autopartswarehouse.com, www.carparts.com, www.jcwhitney.com and www.AutoMD.com. The Company has approximately 2,100 repair shops. (Source: Google Finance).
The $90M company has seen a lot of swings in the past five years: revenues came up and down peaking at $327M in 2011, net income has been negative for the last five years, while operating cash flows have been razor-thin over the years. The company had to raise equity to keep funding its operations (about $16M in the last four years). So what is good about the company, except the five-year sales CAGR of 5.3%?
The Good: the company has a positive outlook for the next five quarters:
U.S. Auto Parts reaffirms its previously disclosed 2015 revenue outlook, expecting sales to increase by single digits on a percentage basis compared to 2014. The company also expects 2015 Adjusted EBITDA to range between $9-10 million, up from $8.1 million in 2014. For 2016, U.S. Auto Parts expects revenues to be up low to mid-single digits on a percentage basis compared to 2015, and adjusted EBITDA to range between $11.5-14.0 million, or up 25%-50%. The company also expects private label sales to continue increasing by double-digits year-over-year. We expect a similar rate of growth in our Adjusted EBITDA margins in 2017 over 2016 that we are experiencing this year over 2014.
In addition:

Third Quarter 2015 Financial Highlights vs. Year-Ago Quarter
Net sales up 4% and comp sales (a non-GAAP measure defined below) up 5% to $70.6 million
Gross profit up 14% to $21.0 million with gross margin up 270 basis points to 29.7%
Adjusted EBITDA (a non-GAAP) up 112% to $2.8 million
The Bad: I do not like the fact that the company (1) is losing money (never had profits for the last five years) and (2) dilutes ownership interests by issuing more equity.
Although the business seems to be on an uptrend, I do not feel comfortable making a recommendation on the shares of U.S. Auto Parts Network, Inc. without conducting a more thorough analysis (e.g. a DCF model). I also have a feeling that the stock's currently low price of about $2.65 per share has a reason behind it.
Hopefully, you have managed to stay with me throughout the long article! I would like to hear your thoughts on the stocks in this list.