Here Is A Promising Earnings Trade For You Today
Yum China Holdings, Inc. (YUMC) is a restaurant company. The Company's segments include KFC, Pizza Hut Casual Dining, and All Other Segments, including Pizza Hut Home Service, East Dawning, Little Sheep and Taco Bell. As of December 31, 2016, the Company had over 7,500 restaurants in China. Its restaurant base consists of various restaurant concepts. The Company's restaurants in each of its concept offer consumers the ability to dine in and/or carry out food. In addition, KFC, Pizza Hut Casual Dining, Pizza Hut Home Service and East Dawning offer delivery service. KFC is the quick-service restaurant (QSR) brand. Pizza Hut Casual Dining is the casual dining restaurant (CDR) brand. As of December 31, 2016, the Company had over 360 Pizza Hut Home Service units in over 50 cities in China. The Little Sheep concept specializes in Hot Pot cooking. East Dawning is a Chinese food QSR brand. Taco Bell is a QSR brand specializing in Mexican-style food.
It is reporting earnings on Wednesday, April 5, after market close:

(Source: TD Waterhouse)
There is not much information on how the company performed relative to analysts' expectations in the past. It has seen modest volatility and a sideways trend in the market price of its stock over the last three months:
$YUMC
, Yum China Holdings, Inc. / D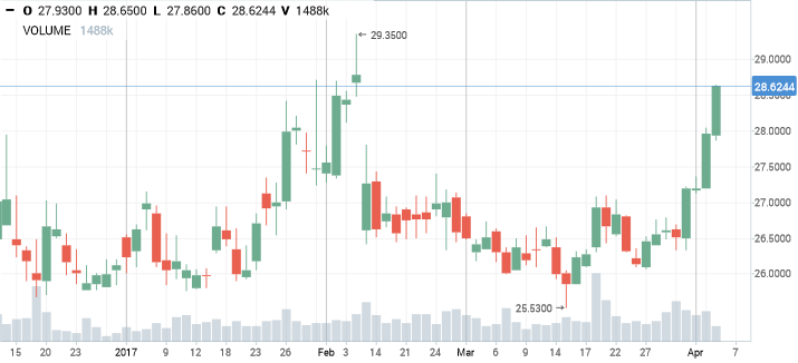 The market participants expect the following numbers over the next few quarters, including the upcoming one: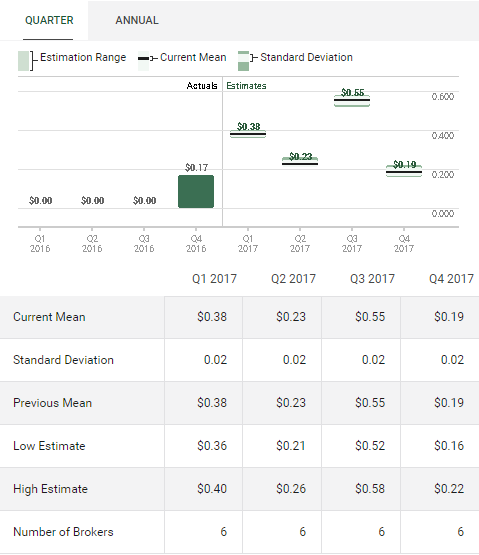 Market data show that the two-week options are undervalued: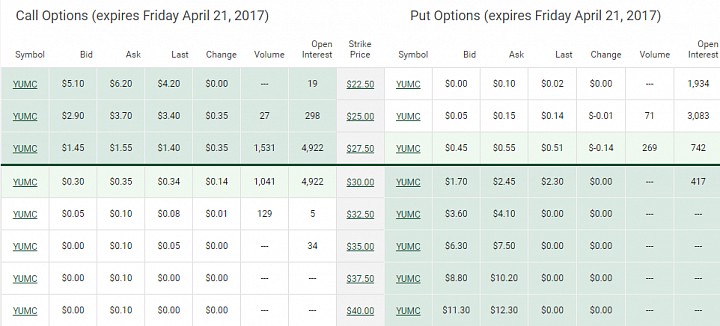 (Source: TD Waterhouse)
The two-week straddles (at-the-money options with a strike price of $27.50 and expiring on April 21, 2017) are worth around 6.7% of the current market price of the stock (including the calculation of the options' moneyness). Historically, the stock has been more volatile than that even on a weekly basis over the last year:

(Source: Google Finance. Calculations by author)
As you can see, the stock has had a weekly standard deviation of around 10.1% over the last 52 weeks, while the straddle expiring in seventeen days has an implied weekly volatility of around 18.4% (calculated based on 17 calendar days remaining until expiration), also including volatility from the earnings event this week. I therefore see signs of undervaluation in these options.
Hence, buying the straddles is a good idea from a theoretical standpoint.