Sell Volatility On Stratasys At Market Open
Stratasys Ltd. (SSYS) is a provider of three dimensional (3D) printing and additive manufacturing (AM) solutions for the creation of parts used in the processes of designing and manufacturing products and for the direct manufacture of end parts. The Company's solutions include products ranging from entry-level desktop 3D printers to systems for rapid prototyping (RP) and production systems for direct digital manufacturing (Source: TD Waterhouse).
It is reporting earnings on Thursday, March 9, before market open: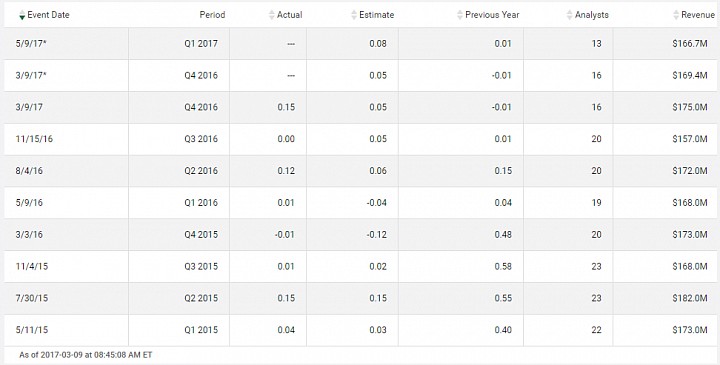 (Source: TD Waterhouse)
As evident from the above, the company beat earnings estimates in 63% of time in the last eight quarters, showing in-line results in 13% of time, and underperforming in the rest of time. It has seen significant volatility and a modest uptrend in the market price of its stock over the last three months:
$SSYS
, Stratasys, Ltd. / D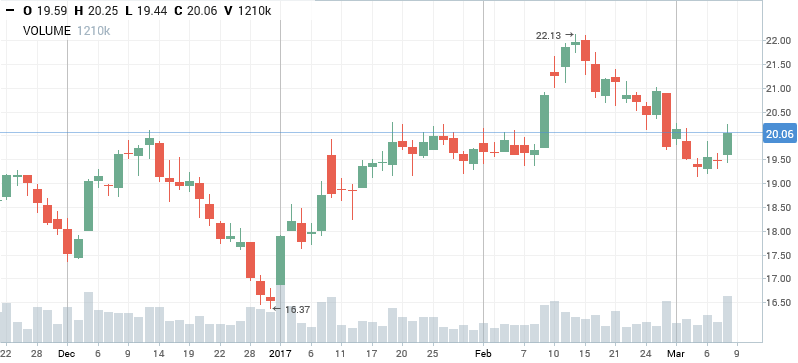 The market participants expect the following numbers over the next few quarters, including the upcoming one: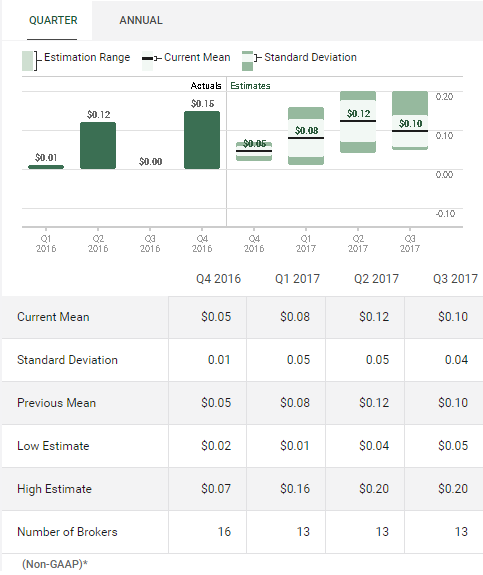 (Source: TD Waterhouse)
Market data show that the one-week options are overvalued: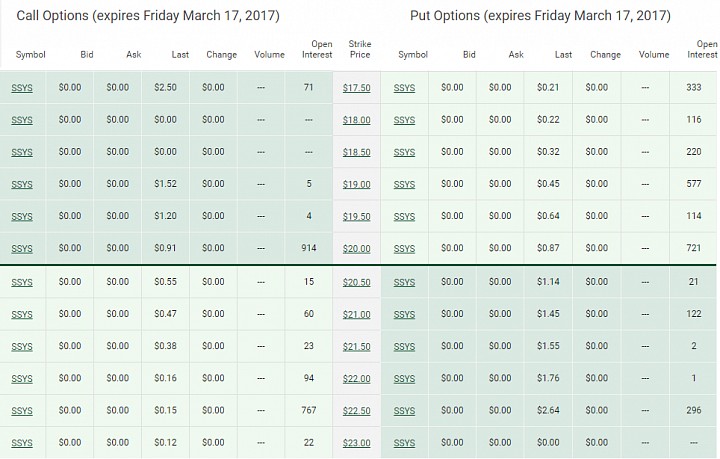 (Source: TD Waterhouse)
The one-week straddles (at-the-money options with a strike price of $20.00 and expiring on March 17, 2017) are worth around 8.9% of the current market price of the stock. Historically, the stock has been less volatile than that on a weekly basis over the last year:

(Source: Google Finance. Calculations by author)
As you can see, the stock has had a weekly standard deviation of around 6.9% over the last 52 weeks, while the straddle expiring in eight days has an implied monthly volatility of around 8.9% (calculated based on 8 calendar days remaining until expiration), also including volatility from the earnings event this week. I therefore see signs of overvaluation in these options.
Hence, selling the straddles is a good idea from a theoretical standpoint.