How Take-Two Interactive Leads The Digital Revolution With Virtual Currency
Two weeks ago, Strauss Zelnick of Take-Two (TTW) spoke with Jim Cramer at Mad Money on CNBC. Apart from the popularity of Take-Two's franchises and its Asian expansion plans, he talked a lot about the growing recurrent consumer spending in Take-Two's franchises (this includes downloadable content, online play, and micro-transactions).
In 2013, a month after the GTA 5 release, the company released an additional multiplayer mode for the game. It is called GTA Online. It gives players an opportunity to compete against each other in a number of different missions. There is also an option to participate in free roam activities and play with friends.
In the online version, Take-Two established a virtual currency called Shark Cards, which gives player an ability to purchase in-game money for real cash. There are 6 different Shark Cards and each has a different value: ranging from 100,000 in-game currency to 8,000,000 in-game currency (the first one sells for $1.49, while the other - for $99).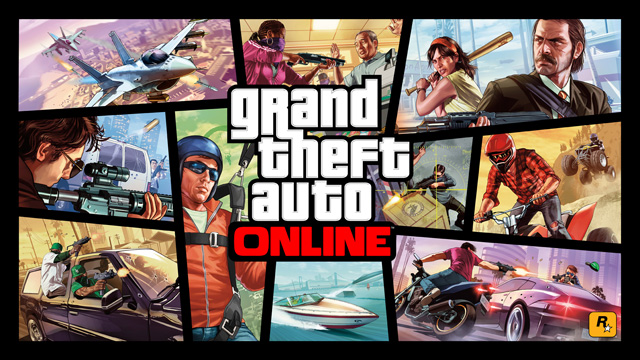 (Image: Wikia.com)
To keep users interested in playing the online mode, Take-Two occasionally releases additional downloadable content (DLC) with updates. It is free by itself and all items included are free, as well. But here is the catch: the price of the new features and items is usually very high. It takes ages to earn enough in-game currency to purchase them. This why gamers have to choose to either play a lot more and spend more of their time to earn the currency or simply buy a Shark Card and buy their favorite items instantly.
Back in 2014, SuperData Research released a console market brief, where the company described the power of Take-Two'sdigital monetization strategy: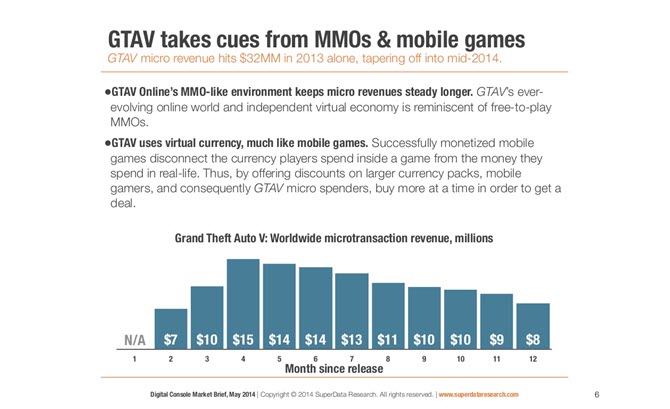 (Source: SuperData Research)
The recurrent consumer spending increased toabout 61.0% of revenues from the digital online channels for the six months ended on September 30, 2015, compared to the figure of 48% for the same period a year ago, according to Take-Two's quarterly results. Most of the digital revenue came from the above-mentioned GTA Online micro-transactions. This micro-transaction strategy is clearly working out extremely well for the company.
Looking at other publishers, we see that they have also experimented with their digital revenue strategies. Last month, for instance, Activision announced that it will add in-game currency to Call of Duty: Black Ops 3. Ubisoft has already added some new gear to  Assassin's Creed: Syndicate which can only be bought with real money. Electronic Arts's (EA) latest earnings report also shows that most of the digital sales came from micro-transactions with virtual currency.
As we can see, the gaming industry is becoming even more populated with virtual currencies. This has proven to be one of the most profitable ways for publishers to get money from gamers. The main challenge for revenue generation for publishers is maintaining the quality and popularity of their digital products. This is an R&D problem, not a marketing challenge. I also think it is an easier and a cheaper challenge for the publishers. 
As for the company in question, we see that it has already set up a solid digital revenue structure in GTA Online and now can spread it over its other titles, including those that are expected to be released in 2016. Undoubtedly, this will help drive Take-Two's value in the years ahead.