Your Last Chance To Sell Volatility In Cal-Maine Foods Pre-Earnings!
Cal-Maine Foods, Inc. (CALM) is a producer and marketer of shell eggs in the United States. The Company operates through the segment of production, grading, packaging, marketing and distribution of shell eggs. It offers shell eggs, including specialty and non-specialty eggs. It classifies cage free, organic and brown eggs as specialty products. It classifies all other shell eggs as non-specialty products. The Company markets its specialty shell eggs under the brands, including Egg-Land's Best, Land O' Lakes, Farmhouse and 4-Grain. The Company, through Egg-Land's Best, Inc. (EB), produces, markets and distributes Egg-Land's Best and Land O' Lakes branded eggs. It markets cage-free eggs under its Farmhouse brand and distributes them throughout southeast and southwest regions of the United States. It markets organic, wholesome, cage-free, vegetarian and omega-3 eggs under its 4-Grain brand. It also produces, markets and distributes private label specialty shell eggs to customers.
It is reporting earnings on Monday, March 27, before market open: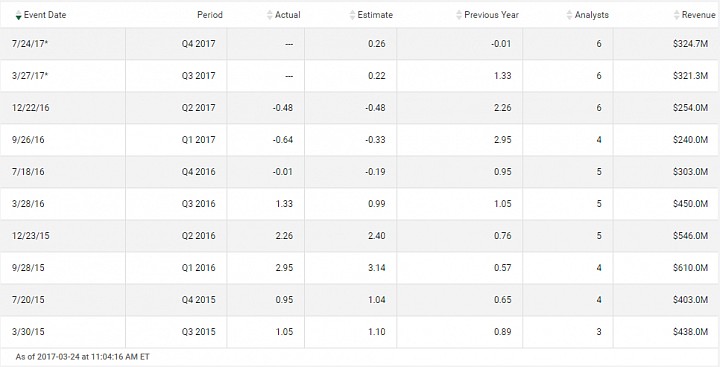 (Source: TD Waterhouse)
As evident from the above, the company has beaten earnings estimates in 25% of time and underperformed or showed in-line results in the rest of time. It has seen significant volatility and a downtrend in the market price of its stock over the last three months:
$CALM
, Cal-Maine Foods, Inc. / D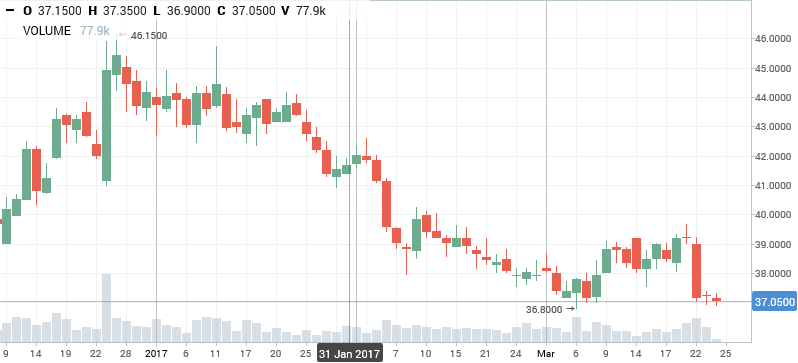 The market participants expect the following numbers over the next few quarters, including the upcoming one: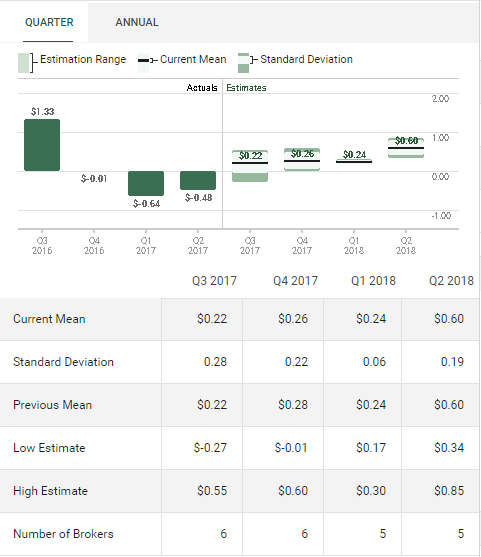 (Source: TD Waterhouse)
Market data show that the one-week options are overvalued:
(Source: TD Waterhouse)
The one-week straddles (at-the-money options with a strike price of $37.00 and expiring on March 31, 2017) are worth around 6.2% of the current market price of the stock (including the calculation of the options' moneyness). Historically, the stock has been less volatile than that on a weekly basis over the last year:

(Source: Google Finance. Calculations by author)
As you can see, the stock has had a weekly standard deviation of around 3.8% over the last 52 weeks, while the straddle expiring in seven days has an implied weekly volatility of around 4.5% (calculated based on 7 calendar days remaining until expiration), also including volatility from the earnings event next week. I therefore see signs of overvaluation in these options.
Hence, selling the straddles is a good idea from a theoretical standpoint.