Making Money On Calvin Klein And Tommy Hilfiger This Earnings Season!
PVH Corp. (PVH) is an apparel company. The Company's segments include Calvin Klein North America; Calvin Klein International; Tommy Hilfiger North America; Tommy Hilfiger International; Heritage Brands Wholesale, and Heritage Brands Retail. The Company's brand portfolio consists of various brand names, including Calvin Klein, Tommy Hilfiger, Van Heusen, IZOD, ARROW, Warner's, Olga and Eagle, which are owned, and Speedo, Geoffrey Beene, Kenneth Cole New York, Kenneth Cole Reaction, Sean John, MICHAEL Michael Kors, Michael Kors Collection and Chaps, which are licensed, as well as various other licensed and private label brands. The Company designs and markets dress shirts, neckwear, sportswear, jeanswear, intimate apparel, swim products and handbags, footwear and other related products, and licenses its owned brands over a range of products. The Company sells its brands at multiple price points and across multiple channels of distribution and geographies.
It is reporting earnings on Wednesday, March 22, after market close: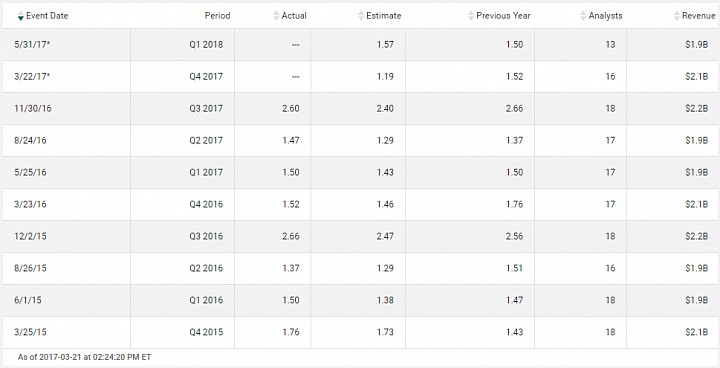 (Source: TD Waterhouse)
As evident from the above, the company has beaten earnings estimates in 100% of time over the last eight quarters. It has seen significant volatility and a sharp downtrend in the market price of its stock over the last three months: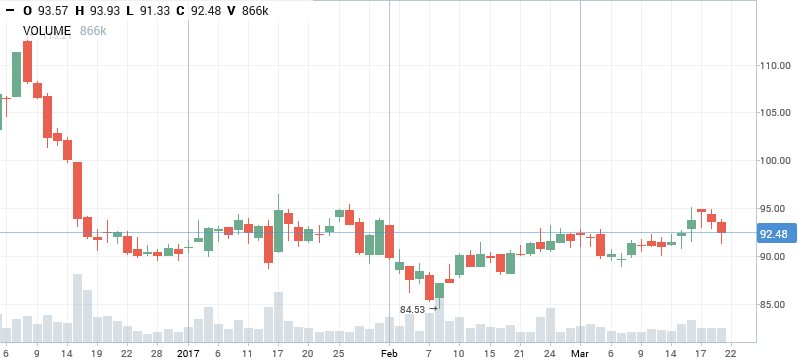 The market participants expect the following numbers over the next few quarters, including the upcoming one: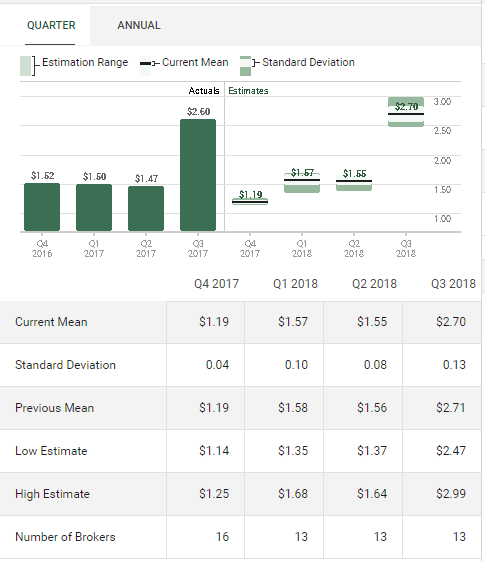 (Source: TD Waterhouse)
Market data show that the one-month options are undervalued: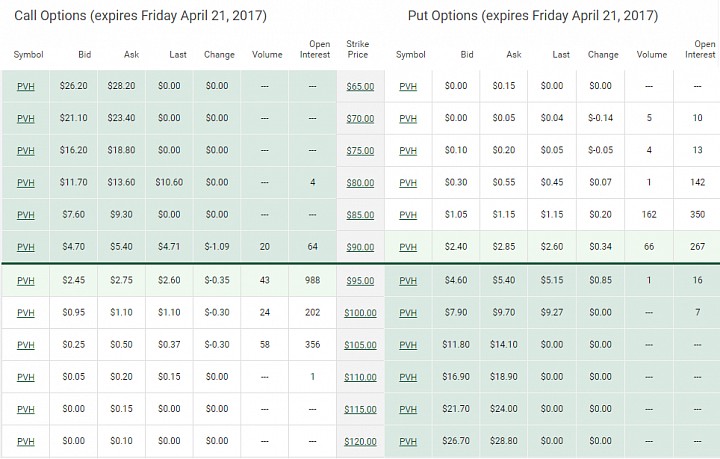 (Source: TD Waterhouse)
The one-month straddles (at-the-money options with a strike price of $90.00 and expiring on April 21, 2017) are worth around 7.9% of the current market price of the stock (including the calculation of the options' moneyness). Historically, the stock has been more volatile than that on a monthly basis over the last year:
(Source: Google Finance. Calculations by author)
As you can see, the stock has had a monthly standard deviation of around 9.35 over the last 52 weeks, while the straddle expiring in thirty calendar days has an implied monthly volatility of around 11.3% (calculated based on 30 calendar days remaining until expiration), also including volatility from the earnings event this week. I therefore see signs of undervaluation in these options.
Hence, buying the straddles is a good idea from a theoretical standpoint.