Let Us See How Volatile Micron Technology Can Be During The Upcoming Earnings
Micron Technology, Inc. (MU) is engaged in semiconductor systems. The Company's portfolio of memory technologies, including dynamic random-access memory (DRAM), negative-AND (NAND) Flash and NOR Flash are the basis for solid-state drives, modules, multi-chip packages and other system solutions. Its business segments include Compute and Networking Business Unit (CNBU), which includes memory products sold into compute, networking, graphics and cloud server markets; Mobile Business Unit (MBU), which includes memory products sold into smartphone, tablet and other mobile-device markets; Storage Business Unit (SBU), which includes memory products sold into enterprise, client, cloud and removable storage markets, and SBU also includes products sold to Intel through its Intel/Micron Flash Technology (IMFT) joint venture, and Embedded Business Unit (EBU), which includes memory products sold into automotive, industrial, connected home and consumer electronics markets.
It is reporting earnings on Thursday, March 23, after market close: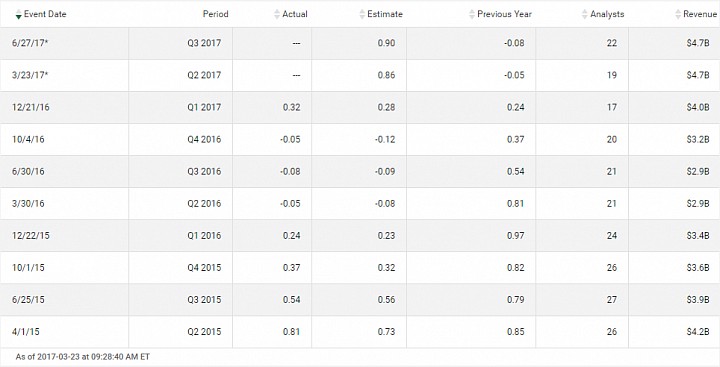 (Source: TD Waterhouse)
As evident from the above, the company has beaten earnings estimates in 87% of time and underperformed in the rest of time. It has seen significant volatility and a strong uptrend in the market price of its stock over the last three months (a 60% growth in price):
$MU
, Micron Technology, Inc. / D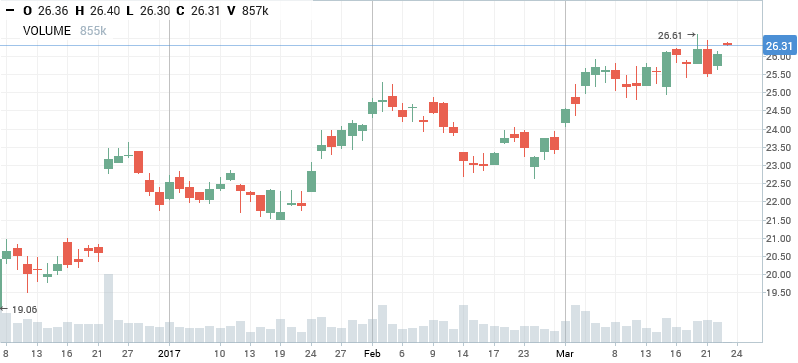 The market participants expect the following numbers over the next few quarters, including the upcoming one: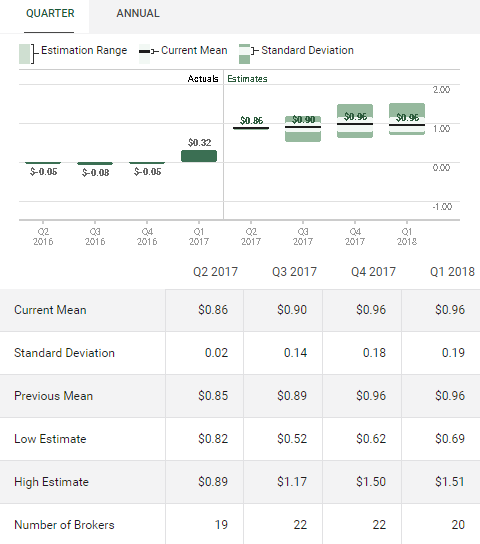 (Source: TD Waterhouse)
Market data show that the one-week options are overvalued: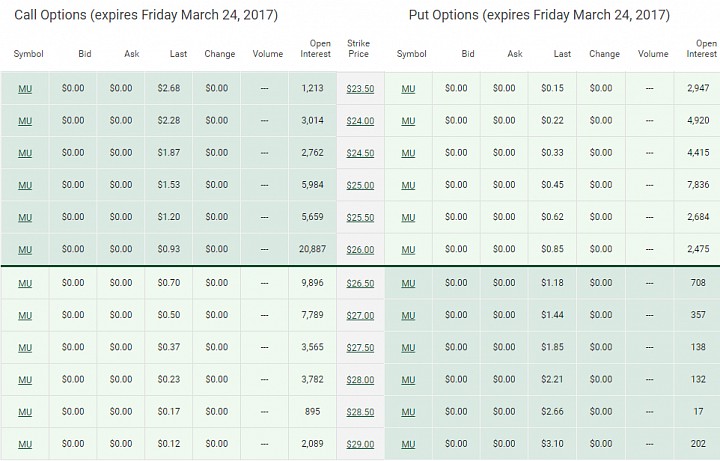 (Source: TD Waterhouse)
The one-week straddles (at-the-money options with a strike price of $26.00 and expiring on March 24, 2017) are worth around 6.8% of the current market price of the stock (including the calculation of the options' moneyness). Historically, the stock has been less volatile than that on a weekly basis over the last year:

(Source: Google Finance. Calculations by author)
As you can see, the stock has had a weekly standard deviation of around 5.9% over the last 52 weeks, while the straddle expiring in two days has an implied weekly volatility of around 3.8% (calculated based on 2 calendar days remaining until expiration), also including volatility from the earnings event this week. I therefore see signs of overvaluation in these options.
Hence, selling the straddles is a good idea from a theoretical standpoint.