Option Sellers Are Making A Killing In This Beer Company Pre-Earnings
Craft Brew Alliance, Inc. (BREW) is a craft brewing company that is engaged in brewing, branding and bringing to market American craft beers. The Company operates through two segments: Beer Related operations, which include the brewing operations and related domestic and international beer and cider sales of its Kona, Widmer Brothers, Redhook and Omission beer brands, and Square Mile cider brand, and Pubs operations, which include its approximately five pubs, over four of which are located adjacent to its Beer Related operations, as well as other merchandise sales, and sales of its beers directly to customers.
It is reporting earnings on Monday, March 13, after market close: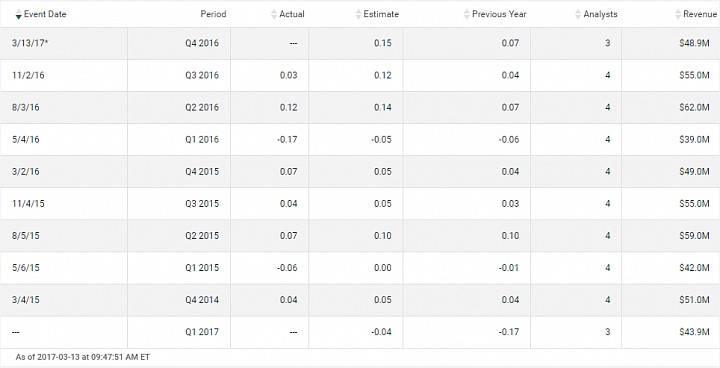 (Source: TD Waterhouse)
As evident from the above, the company beat earnings estimates in 13% of time in the last six quarters, showing in-line results in 0% of time, and underperforming in the rest of time. It has seen significant volatility and a sharp downtrend in the market price of its stock over the last three months:
$BREW
, Craft Brew Alliance, Inc. / D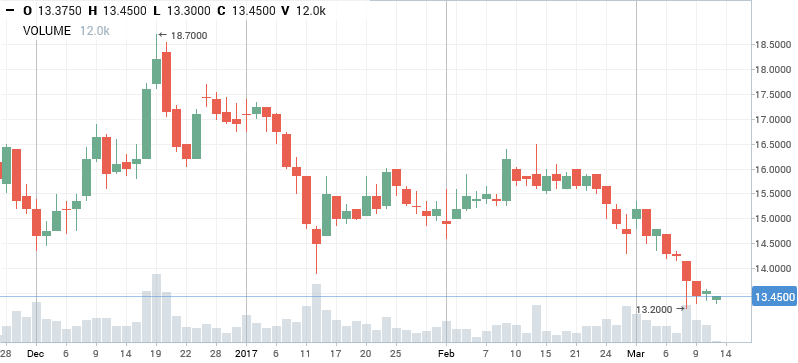 The market participants expect the following numbers over the next few quarters, including the upcoming one: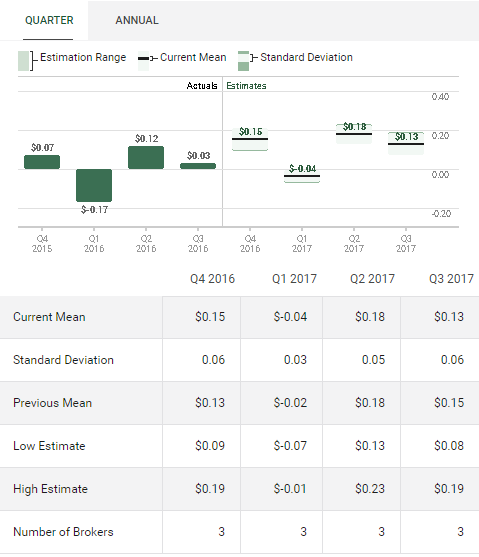 (Source: TD Waterhouse)
Market data show that the one-week options are overvalued: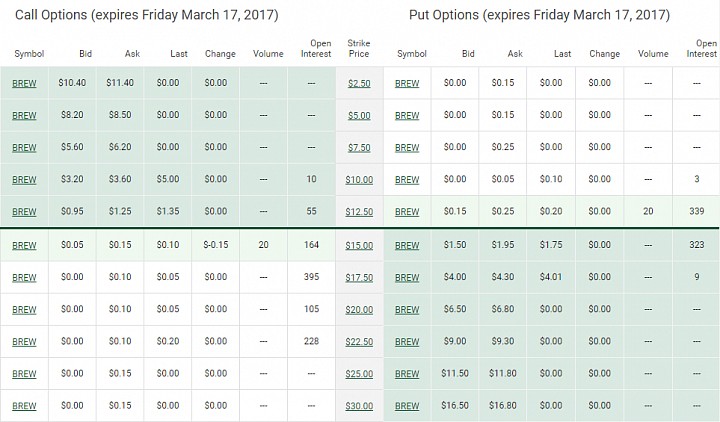 (Source: TD Waterhouse)
The one-week straddles (at-the-money options with a strike price of $12.50 and $15.00 and expiring on March 17, 2017) are worth around 21% of the current market price of the stock (including the calculation of the options' moneyness). Historically, the stock has been less volatile than that on a weekly basis over the last year:

(Source: Google Finance)
As you can see, the stock has had a weekly standard deviation of around 8.12 over the last 52 weeks, while the straddle expiring in seven days has an implied monthly volatility of around 8.3% (calculated based on 5 calendar days remaining until expiration), also including volatility from the earnings event this week. I therefore see signs of overvaluation in these options.
Hence, selling the straddles is a good idea from a theoretical standpoint.