Buying Volatility On The Turkish Stock Market
The recent terrorist attack on the international airport in Istanbul has caused a lot of havoc over the last few hours since the news first came out. At this point in time, it is unknown who responsible for the attack is but there is a high chance that ISIS is to blame. We all know how the markets react to this sort of news: volatility always gets a rise, no matter what direction the market goes (chances are, the Turkish stock market is going to crash at the opening). In the past few months, it has been modestly volatile but I assume the drama is just going to start in a few hours (also think about this: the Turks will demand retaliation for these events - who knows how far this will take them in terms of geopolitics?):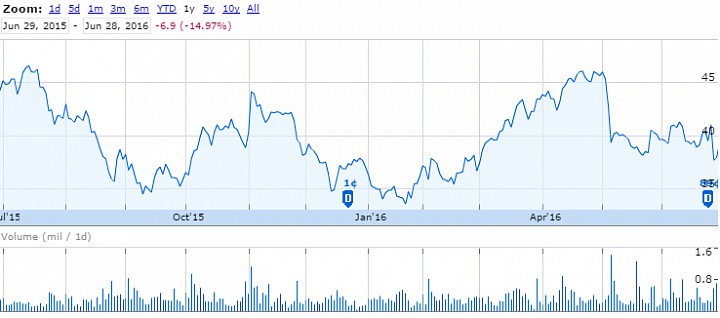 (Source: Google Finance) 
Options are probably the best way to play volatility, especially in the short-term. I have check a few common strategies and found out straddles are the "cheapest" way to exploit upcoming market mayhem:

(Source: optionsprofitcalculator.com)
The "window of safety" with this strategy is the narrowest out of all strategies that I tried (iron condor, calendar spreads, strangles) and represents around 7% of the current market price of the Turkish Market iShares MSCI Turkey ETF (TUR):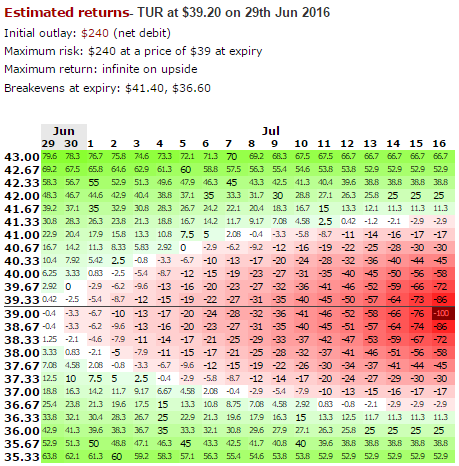 (Source: optionsprofitcalculator.com)
The trade is not expensive in either absolute or relative terms:

(Source: Google Finance. Calculations by author)
As of today's closing, the options are priced in line with historical data: that is, assuming a normal distribution of returns, there is a 32% chance to be in-the-money with this trade (including the cost of the premiums). Of course, given the recent events, the odds will become dramatically in our favor. I am thinking about initiating a small position at market open (1-2 contracts). What do you think of this opportunity?