This Is How You Should Play Bed Bath & Beyond's Earnings Today
Bed Bath & Beyond Inc. (BBBY) is a retailer, which operates under the names Bed Bath & Beyond (BBB), Christmas Tree Shops, Christmas Tree Shops andThat! or andThat! (collectively, CTS), Harmon or Harmon Face Values (collectively, Harmon), buybuy BABY (Baby) and World Market, Cost Plus World Market or Cost Plus (collectively, Cost Plus World Market). The Company operates in two segments: North American Retail and Institutional Sales. The Company sells a range of domestics merchandise and home furnishings. Domestics merchandise includes categories, such as bed linens and related items, bath items and kitchen textiles. Home furnishings include categories, such as kitchen and tabletop items, fine tabletop, basic housewares, general home furnishings, consumables and juvenile products. The Company operates approximately 1,530 stores plus its various Websites, other interactive platforms and distribution facilities.
It is reporting earnings on Wednesday, April 5, after market close: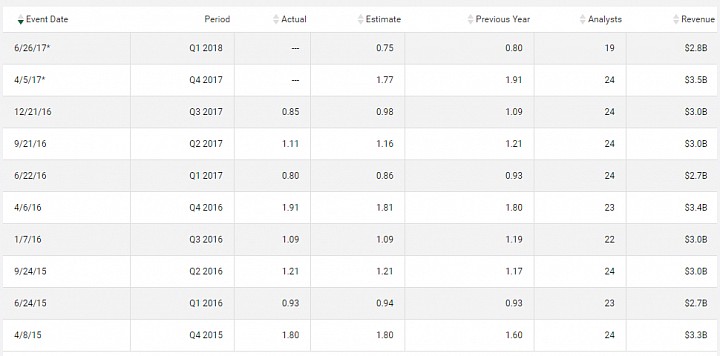 (Source: TD Waterhouse)
As evident from the above, the company has beaten earnings estimates in 13% of time and underperformed or showed in-line results in the rest of time. It has seen significant volatility and a strong downtrend in the market price of its stock over the last three months:
$BBBY
, Bed Bath & Beyond Inc. / D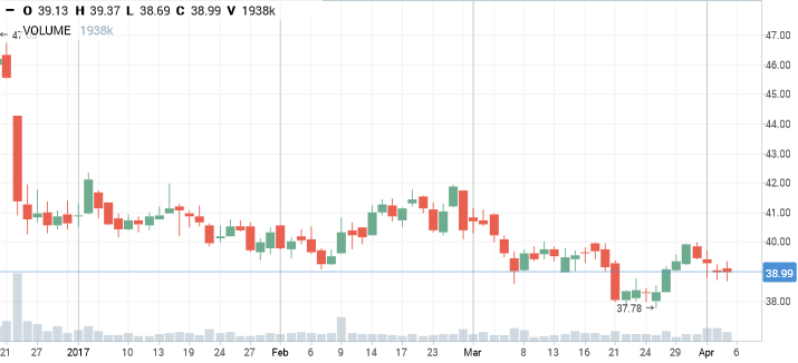 The market participants expect the following numbers over the next few quarters, including the upcoming one: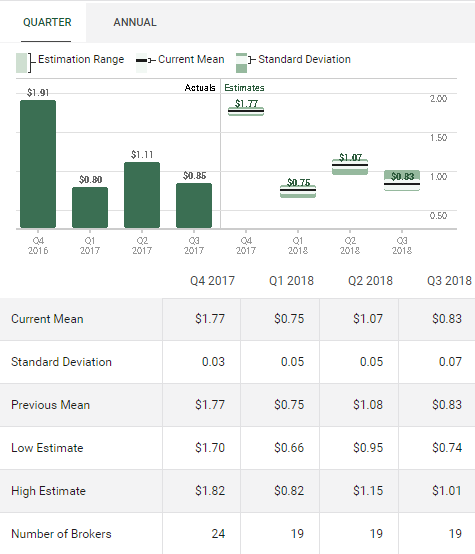 (Source: TD Waterhouse)
Market data show that the one-week options are overvalued: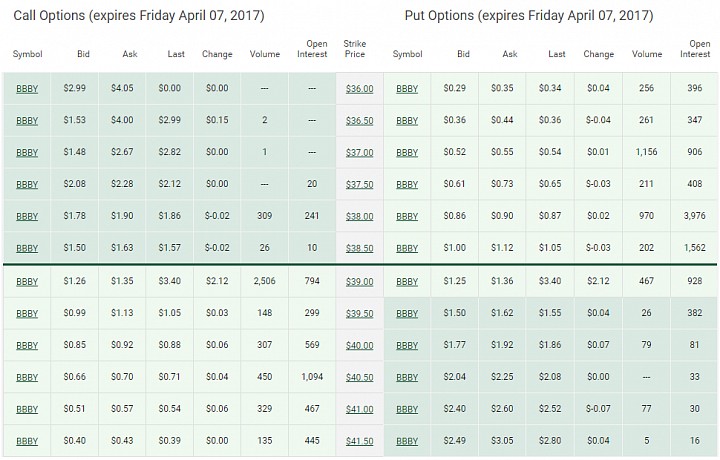 (Source: TD Waterhouse)
The one-week straddles (at-the-money options with a strike price of $38.50 and expiring on April 7, 2017) are worth around 6.7% of the current market price of the stock (including the calculation of the options' moneyness). Historically, the stock has been less volatile than that on a weekly basis over the last year:

(Source: Google Finance. Calculations by author)
As you can see, the stock has had a weekly standard deviation of around 3.6% over the last 52 weeks, while the straddle expiring in three days has an implied weekly volatility of around 2.8% (calculated based on 3 calendar days remaining until expiration), also including volatility from the earnings event this week. I therefore see signs of overvaluation in these options.
Hence, selling the straddles is a good idea from a theoretical standpoint.