Playing Earnings In Franco-Nevada Corp With This Simple Options Trade
Franco-Nevada Corp (FNV) is a Canada-based gold-focused royalty and stream company. The Company's additional interests are in platinum group metals and other resource assets. It operates in the segment of resource sector royalty/stream acquisitions and management activities. The Company's business model provides investors with gold price and exploration optionality. The Company has a diversified portfolio of royalties and streams by commodity, geography, revenue type and stage of project.
It is reporting earnings on Wednesday, March 22, after market close: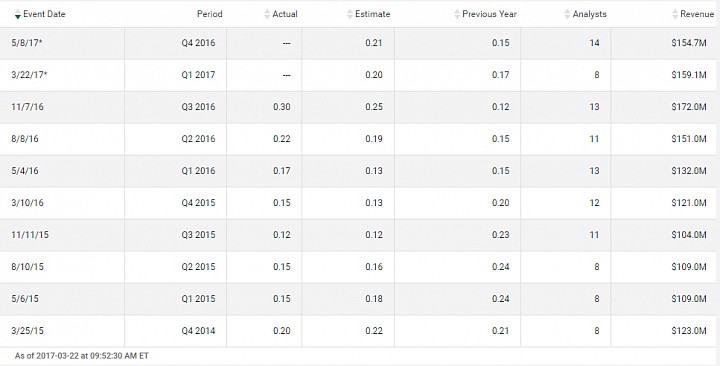 (Source: TD Waterhouse)
As evident from the above, the company has beaten earnings estimates in 50% of time over the last eight quarters, underperforming in three quarters and showing in-line results in one. It has seen significant volatility and an uptrend in the market price of its stock over the last three months:
$FNV
, Franco-Nevada Corporation / D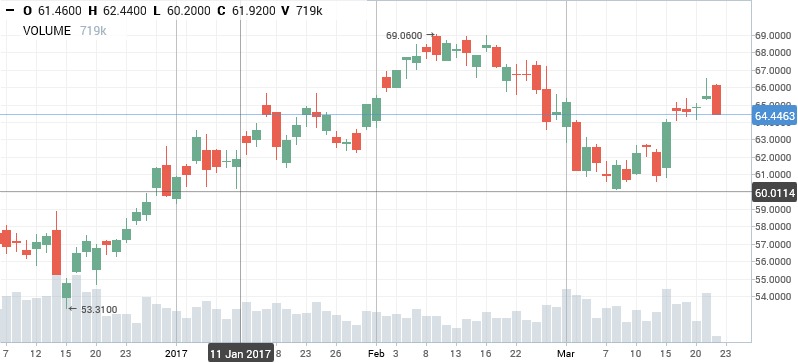 The market participants expect the following numbers over the next few quarters, including the upcoming one: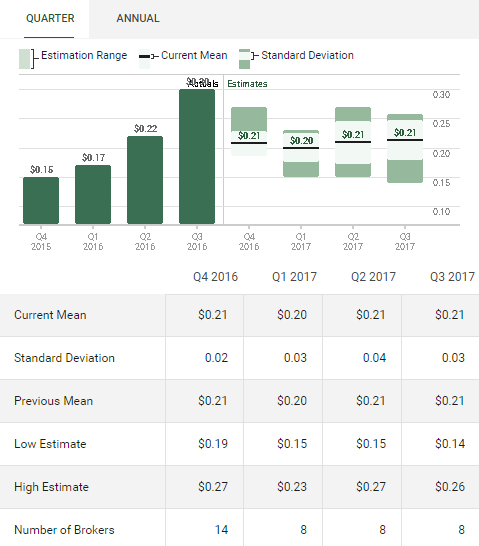 (Source: TD Waterhouse)
Market data show that the one-month options are undervalued: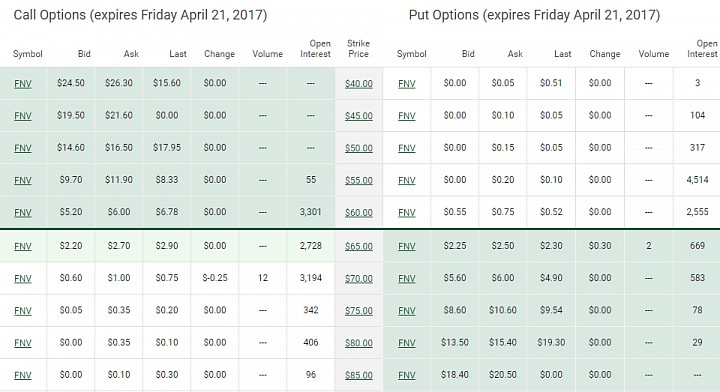 (Source: TD Waterhouse)
The one-month straddles (at-the-money options with a strike price of $65.00 and expiring on April 21, 2017) are worth around 8.1% of the current market price of the stock (including the calculation of the options' moneyness). Historically, the stock has been more volatile than that on a monthly basis over the last year:

(Source: Google Finance. Calculations by author)
As you can see, the stock has had a monthly standard deviation of around 10.5% over the last 52 weeks, while the straddle expiring in thirty calendar days has an implied monthly volatility of around 12.6% (calculated based on 30 calendar days remaining until expiration), also including volatility from the earnings event this week. I therefore see signs of undervaluation in these options.
Hence, buying the straddles is a good idea from a theoretical standpoint.