Get On Board Of This Watch Company Reporting Earnings On Monday!
Movado Group, Inc. (MOV) designs, sources, markets and distributes watches. The Company operates through two segments: Wholesale and Retail. The Wholesale segment includes the design, development, sourcing, marketing and distribution of watches, and after-sales service activities and shipping. It sells all of its brands to jewelry store chains, department stores and independent jewelers. The Retail segment includes its retail outlet stores. The Company's subsidiary, Movado Retail Group, Inc., operates approximately 40 outlet stores located in outlet centers across the United States. The Company divides its business into two geographic locations: the United States and International. It has international operations in Europe, the Americas (excluding the United States), the Middle East and Asia.
It is reporting earnings on Monday, March 20, after market close: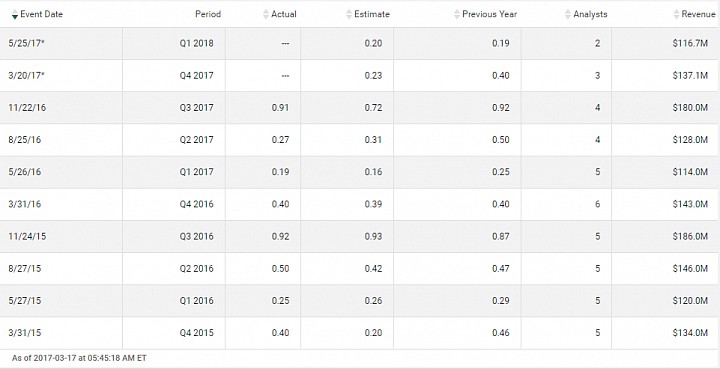 (Source: TD Waterhouse)
As evident from the above, the company has beaten earnings estimates in 63% of time and underperformed in the rest of time. It has seen modest volatility and a strong downtrend in the market price of its stock over the last three months (a 25% decline):
$MOV
, Movado Group Inc. / D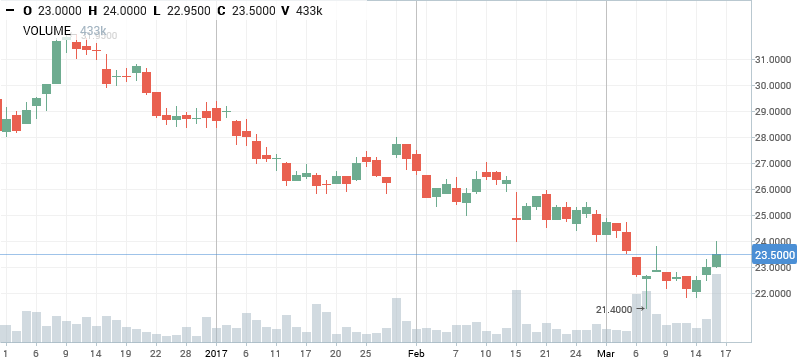 The market participants expect the following numbers over the next few quarters, including the upcoming one: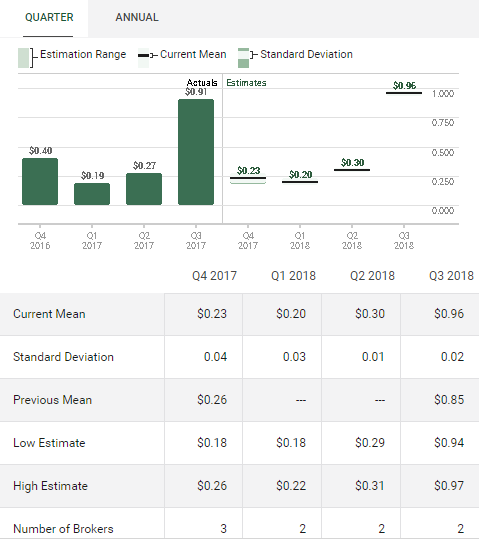 (Source: TD Waterhouse)
Market data show that the one-month options are undervalued: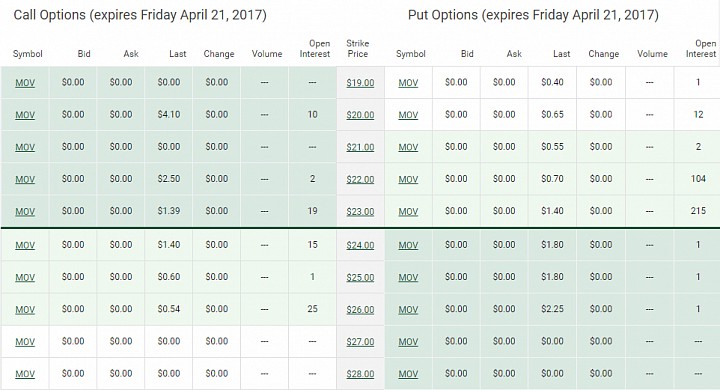 (Source: TD Waterhouse)
The one-month straddles (at-the-money options with a strike price of $23.00 and expiring on April 21, 2017) are worth around 11.9% of the current market price of the stock (including the calculation of the options' moneyness). Historically, the stock has been more volatile than that on a monthly basis over the last year:

(Source: Google Finance. Calculations by author)
As you can see, the stock has had a monthly standard deviation of around 11.7% over the last 52 weeks, while the straddle expiring in three days has an implied weekly volatility of around 15.0% (calculated based on 35 calendar days remaining until expiration), also including volatility from the earnings event next week. I therefore see signs of undervaluation in these options.
Hence, buying the straddles is a good idea from a theoretical standpoint.