How I Am Being Non-Directional On FedEx Pre-Earnings
FedEx Corporation (FDX) provides a portfolio of transportation, e-commerce and business services through companies competing collectively, operating independently and managed collaboratively, under the FedEx brand. The Company's segments include FedEx Express, TNT Express, FedEx Ground, FedEx Freight and FedEx Services. The FedEx Express segment offers a range of the United States domestic and international shipping services for delivery of packages and freight. TNT Express segment collects, transports and delivers documents, parcels and freight on a day-definite or time-definite basis. The FedEx Ground segment provides business and residential money-back guaranteed ground package delivery services. The FedEx Freight segment offers less-than-truckload (LTL) freight services. The FedEx Services segment provides its other companies with sales, marketing, information technology, communications, customer service and other back-office support.
It is reporting earnings on Tuesday, March 21, after market close: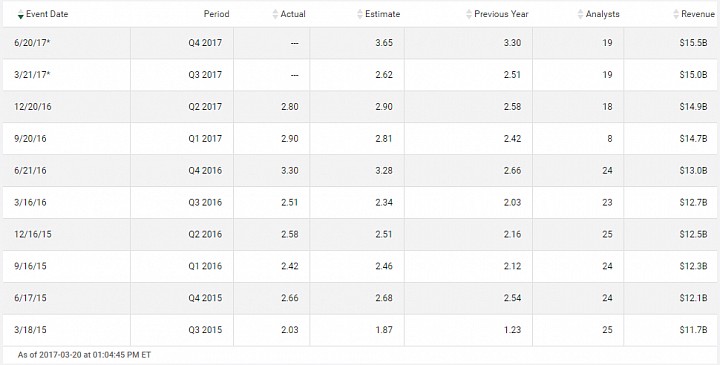 (Source: TD Waterhouse)
As evident from the above, the company has beaten earnings estimates in 63% of time and underperformed in the rest of time over the last eight quarters. It has seen modest volatility and a sideways trend in the market price of its stock over the last three months:
$FDX
, FedEx Corporation / D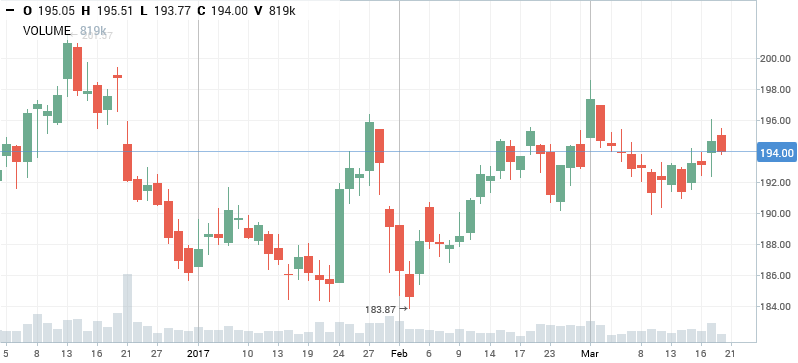 The market participants expect the following numbers over the next few quarters, including the upcoming one: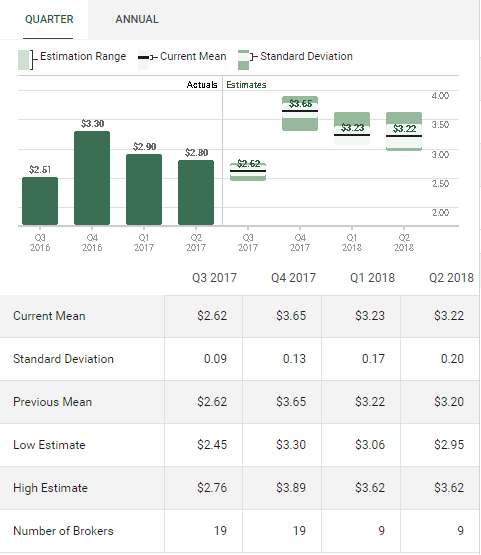 (Source: TD Waterhouse)
Market data show that the one-week options are overvalued: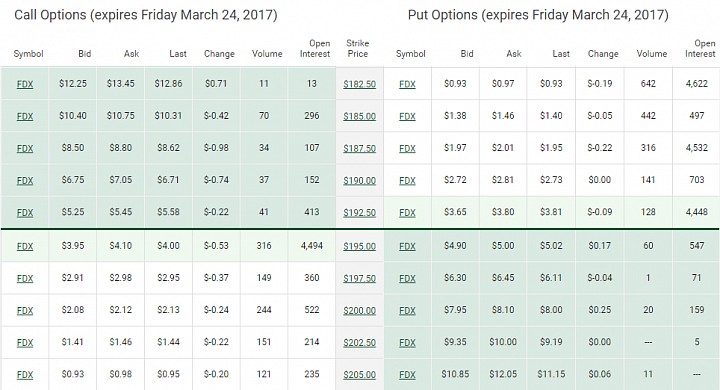 (Source TD Waterhouse)
The one-week straddles (at-the-money options with a strike price of $195.00 and expiring on March 24, 2017) are worth around 4.6% of the current market price of the stock (including the calculation of the options' moneyness). Historically, the stock has been less volatile than that on a weekly basis over the last year:

(Source: Google Finance. Calculations by author)
As you can see, the stock has had a weekly standard deviation of around 2.5% over the last 52 weeks, while the straddle expiring in five calendar days has an implied weekly volatility of around 2.5% (calculated based on 5 calendar days remaining until expiration), also including volatility from the earnings event this week. I therefore see signs of overvaluation in these options.
Hence, selling the straddles is a good idea from a theoretical standpoint.